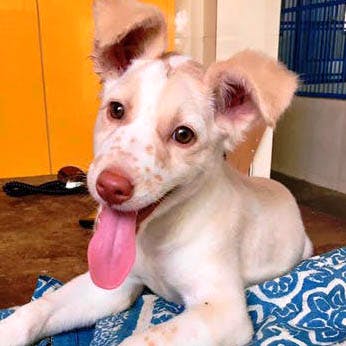 Four-Legged Love: Where To Adopt An Adorable Puppy (Or Kitten) From In Mumbai
Ten-Second Takeaway
There's always a puppy looking for a home, a recently abandoned cat who needs more love and a cat who has just recovered and has no place to go. If you are looking to take home a furry friend, adopt, don't shop, and this list will take you exactly where you need to go.
Animals Matter To Me
Animals Matter To Me is a Navi Mumbai (and Bangalore) -based animal welfare and adoption centre. They rescue dogs, treat them, hold programs to make people more aware of animal compassion and hold adoption drives as well. This animal shelter is extremely hard-working, and is on the look out for donations as well. If you have the time and resources to take care of a rescue animal, please do reach out to them on their Facebook page or call them on 099677 95660 for dog adoption in Mumbai.
Cat Cafe
Low-lying seating, tables with café and cats lazily strewn across the floor or lost in heavy sleep in between shelves of clothes. That's the amazing Cat Café in Andheri for you, owned by cat-lovers, Mridu, Charu and Jason. They rescue cats, take care of them and you can adopt a cat from their café. They also often host cat donation camps too.
If you further want to know more about them, and be led to a page with adorable, meow-worthy cat photos, check this out.
Keep a track of those paw marks left on Facebook for updates on adoption and some seriously sage life advice imparted by these kitties.
The Welfare Of Stray Dogs
WSD is an organisation which aims to take care of dogs on the street, by treating them, healing them and then finding homes for them. One of their other major functions is to eradicate rabies. They also organise adoption drives, and their kennels have dogs up for adoption too.
If you keep a tab on their Facebook page, where they post regularly enticing you to bring home a little piece of your heart.
World For All
Founded in 2006, World For All is a non-profit organisation which solely exists to give animals a better place in the world. From adoption camps, constant rescuing and treatment of animals and looking for foster homes, these guys often host different events so as to raise funds for the animals.
You may have even come across their adoption camps set up at the pet-friend Doolally.
Follow their Facebook page to see updates on calls for adoption/ foster homes.
To know more about foster dogs and pups, call 9820191321. To get a kitty home, call 9820496099.
Youth Organisation In Defence Of Animals
YODA is a group started by 5 animal lovers who wanted to keep push away the puppy mills and 'pure breeding' concepts seen very commonly taken by potential pet parents. They hope that people soon just know the policy of 'adopt, don't shop' when it comes to getting an animal home. Now, it is a full fledged Facebook group joined by thousands of other like-minded animal lovers. The group treats, rescues and rehomes the animals, conducting thorough background checks before adoption and also follows up after the adoption process.
If you join the Facebook group, you will be in the know of lots of other community members posting about adoption and foster updates.
Save Our Strays
Save Our Strays is an animal welfare organisation that works in four different areas: sterilization, vaccination, animal healthcare, and adoptions. They regularly organise adoption drives so our four-legged friends can find a happy home. They've rescued over 2000 animals and work towards finding them a family. If you're looking to contribute in some way, they also invite sponsors and donations.
Save The Paws
Save The Paws is an animal welfare organisation that works towards rescuing animals from the streets and pets abandoned by their original families. They also work towards finding these rescued animals a home with a loving family. They run adoption drives in the city, where you can stop by and meet the animals before you decide to adopt.
Comments