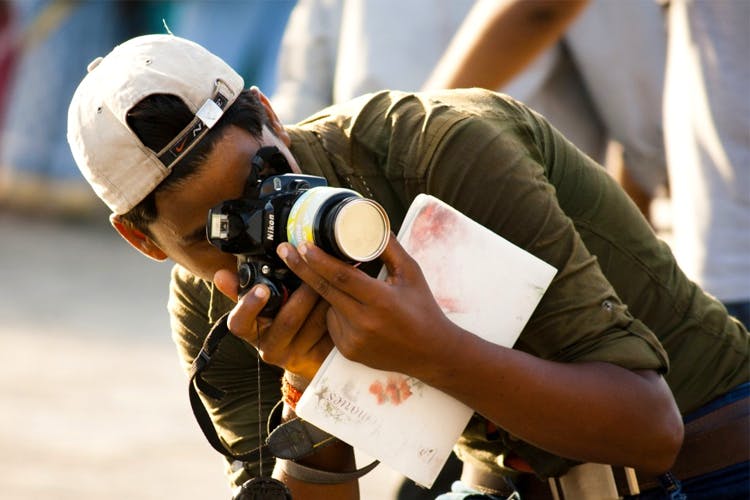 Get Clicking: Photography Classes In Mumbai To Enhance Your Skills
In the times of social media where everything is expected to be picture perfect and Instagram-worthy, if you truly wish to learn photography, then you must check out these classes in Mumbai.
Girish Menon Photography Workshop
With over 12 years of teaching experience, Girish Menon has taught over 5,000 people the skill of photography through classes and workshops. What we love is the easy and approachable nature of the classes that take into account the difficulties beginners may face when learning the ins and outs of DSLR cameras, technical knowledge and more. They offer a variety of workshops, plus one-on-one learning sessions too.

Classes: They offer a one-day Master Your Camera F.A.S.T workshop, Private Workshop for Beginners, Single Flash Portrait, Bird and Wildlife Photography and more.
Price: The one-day Master Your Camera F.A.S.T. workshop is a 5-hour workshop priced at INR 3,000
Udaan School of Photography
Udaan offers specialised photography courses, ranging from a basic six-day course, to an advanced five-day course catering to those who are looking at it as a hobby, and for those looking to make a career. The courses stress on providing a thorough understanding of basic principles of photography, avoiding all shortcuts and gimmicks, further helping ace every shot not by chance but by knowledge.
They keep experimenting with their courses and workshops which are always happening. Follow them closely to find something that suits your schedule and requirement.
Classes: Professional Classes, Weekend Course, Foundation Course, Wedding Photography, One-Month Fashion Photgraphy, Documentary Photography, Classes For Children, Short Workshops
Price: Basic Photography Course starts at INR 4250
Toe Hold Travel and Photography
Love travel and photography and want to combine your two passions? Then we suggest you check out Toe Hold Travel and Photography. This company offers workshops that will help you reach your photography goals. Besides photography workshops, they also plan trips and photo tours where you can test out your new-found photography skills. Don't have your own camera? You can even rent one from them while you're learning new skills.
Classes: Two-day photography workshops, photo tours, personalised vacations and more
Price: Two-day workshops start at INR 6900. You'll learn the appropriate tools for your type of photography, working with different light conditions, and learn different techniques
Pro-Tip
Make sure to inquire about their prices and trial classes before you book a class.
Comments