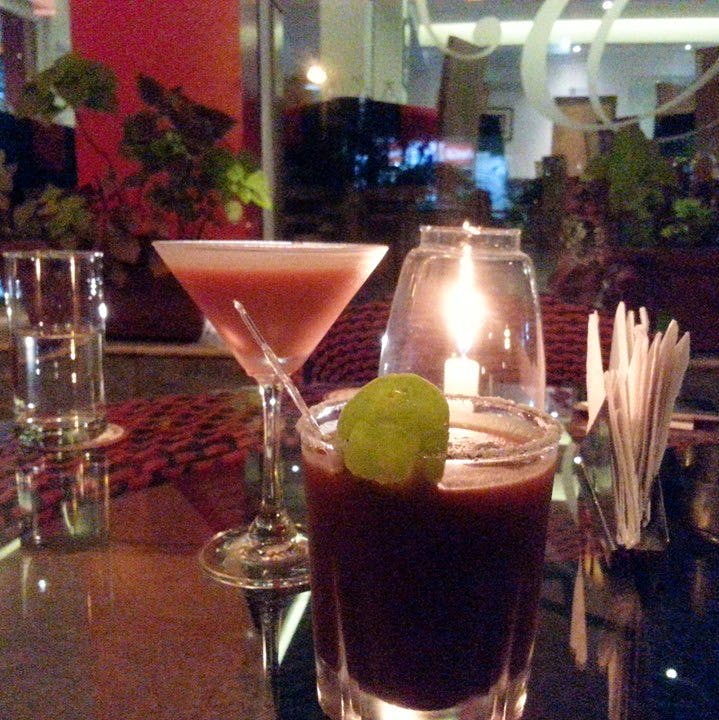 Drinking After Office? Head To These Pocket-Friendly Bars In And Around Parel
We all love booze, especially when it's cheap. And as working professionals in and around Lower Parel and Parel, cheap drinking is a given. Here, we bring to you our favourite dives that welcome you with open arms, happy hours and good food without leaving you broke. Read on.
Ambience Bar & Kitchen
This is probably our favourite hangout joint in Lower Parel. Frequented by media professionals and corporates all day, Ambience is known for its cosy vibes, quirky interiors and easy-on-pocket pricing. Be it its food, service or music, this aptly located bar (a ten-minute walk from Lower Parel station) is loved highly by its patrons. Their signature dishes include surmai tawa fry, the non vegetarian platter, paneer chilly and others. They make fairly potent cocktails too.
P.S.: Their loos are fairly clean, and the waiters are protective of female patrons.
Happy Hours: Noon to 9PM
Booze On Moods
Often also called the 'friendly neighbourhood bar', Booze on Moods, or BOM, as it's better known, is ideal for a quick catch up session post work. For many party-goers, this is also a regular pre-gaming spot. What works for BOM is their quick service, cheap pricing of alcohol (even foreign brands) and fairly decent food. More often than usual, the place is flooded with people, so don't be surprised if you're asked to wait, but since the place has a lower and upper section, the wait doesn't last too long. The only downer, we think, is the loud music that makes it difficult to converse.
P.S.: Their bathrooms are just about usable, so don't feel too scared of that second beer.
Happy Hours: 11AM to 5:30PM (only on beer)
Grapeviine
Situated in Peninsula Corporate Park (a very populated corporate centre), Grapeviine is all sorts of amazing. The food here is hands-down better than most others on this list; the interiors are nice and clean with outside seating too. You can come here to chill with your gang or have a meeting with your client, the place certainly won't disappoint. And to add to all of the above-mentioned positives, the place is very, very reasonably priced.
P.S.: The loo is reasonably clean.
Madira Restaurant & Bar
Predominantly frequented by media professionals, Madira is the go-to bar for everyone working around Parel. Don't keep your expectations too high when it comes to the ambience, but what you will truly love is the cheerful vibe all around. The chicken garlic here has quite a reputation, so it's certainly one of the must-try dishes.
P.S.: The bathroom isn't the cleanest. So, make it a point to head out to one of the cafes nearby.
Mighty Small
This carnival-themed café is located inside Smaash, and has quirky circus art all over its walls, which are coloured in vibrant shades. With funky posters and bright lights all around, the café is full of energy and serves fairly good food which can be teamed with its reasonably priced alcohol. Some of their signature dishes include the chicken 65, margarita pizza and the black beans and jalapeno burger. This joint is also ideal for team outings.
Happy Hours: 5PM to 9PM
Akshaya Restaurant
The ambience is nothing much to talk about, but the bar is a good hangout spot if you want to grab a quick drink after work and don't wish to spend much. Go there in a group, munch on some decent starters with your drinks and expect nothing more.
DP - Shree Durga Parmeshwari
This fairly clean bar is frequented by several office-goers regularly, who often visit the dive for a quick, cheap drink and snacks. The fast service and decent food enable it to be a preferred spot for professionals who step in there for short, post-work sessions.
P.S.: The loos are usable.
Millenium Bar & Restaurant
This is literally nothing more than just your neighbourhood bar, with no ambience to boast of. But hey, you can still get your peeps and hang out here. The food is decent with fairly good quantities, but the alcohol is cheap and that's what matters.
P.S.: The loos are barely usable.
Pro-Tip
If you're looking for more cheap dives over and above these, then we suggest you also check out Sarovar Restaurant & Bar (Parel), Janani Bar & Restaurant (Parel), Shiv Krupa Bar & Restaurant (Parel).
Ask Shalvi a question