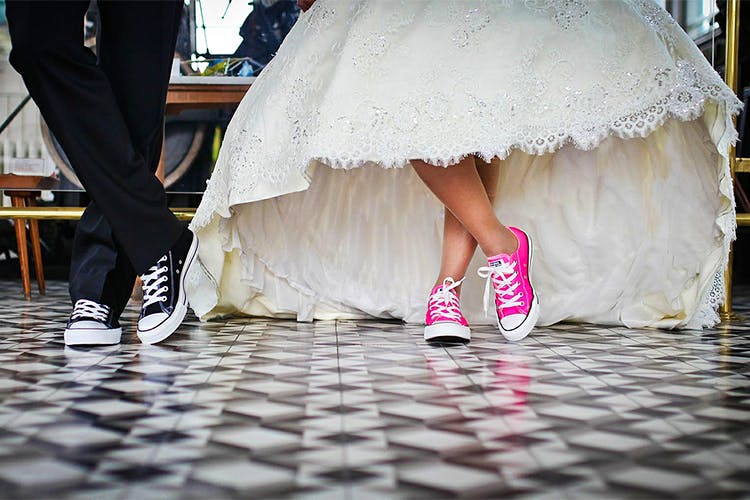 Strike A Pose: The Best Pre-Wedding Shoot Locations In Mumbai
We all look at friends' Facebook profiles (whether we like it or not) where pre-wedding shoots take them to exotic locations at home and abroad. Surprisingly, Mumbai with all its chaos, offers many places too.
Sure your Facebook friend hired a wedding planner and decided to go to Udaipur to shoot her pre-wedding shoot, go to Phuket for her bachelorette party, and then had a big fat wedding in some country whose name you probably couldn't pronounce. A little exorbitant we think, but then, to each their own.
When you actually look at it, Mumbai has its own charm and several spots across the city that can make your pre-wedding shoot perfect. Read on to find some of the best spots to click those amazing pre-wedding pics that will last you a lifetime!
Outside Asiatic Library
The old gigantic building is an architectural marvel. If you're in the mood to time travel, the classical architecture of this iconic library is made for you. Think of the perfect pose as the photographer shoots at an incline making it appear that the roof is actually the peak or summit. Quite romantic! Ball gowns, puffy hair, pearls…set the mood right with timeless pieces.
Best time to shoot: Early morning is the best time to shoot
#LBBTip: since the background is mostly white, opt for bright colors that will pop in the pictures.
The Tip Of Marine Drive
With the waves colliding onto the rocks as your background, this shoot will be quite fun, even though your photographer will have to take necessary precautions to ensure her/his camera doesn't get damaged by the water! Mist-kissed and happy in love – it's one spot that really brings out the best feelings one could have.
Best time to shoot: Sunrise or sunset
Sanjay Gandhi National Park
Pose amidst the greenery; if you're lucky you may even have a deer in the background. But think about a shoot at Sanjay Gandhi National Park. It's quiet and there aren't many people around. With beautiful butterflies and sometimes even wildlife adding the drama to the frame it's sure to be an experience. Plus you get to shoot to the sound of nature. Ah, the perfect recipe for a jungle romance.
Best time to shoot: Mornings are the best time to shoot, before it gets hot. You don't want to be stuck here post sunset!
National Parks & Wildlife Sanctuaries
Hanging Gardens
Another destination in south Mumbai, Hanging Gardens offers you the chance to pose alongside plant sculptures and the giant boot you've probably had childhood memories of, just to add to the drama of the shoot.
Best time to shoot: Early morning is a good time, in the evening you may have to contend with a few too many excitable kids!
#LBBTip: Stop over at Nepean Sea Road for that old-world charm of forgotten Bombay.
Bandra Bandstand
With the Bandra-Worli Sealink in the background, this is a spot that signifies the city and how much it means to a Mumbaikar. It's the perfect setting for your perfect romance. And If you're a Bollywood buff, this is an added bonus! We're sure you've spent endless hours roaming around the gorgeous roads near your favorite Khans' homes. Here's your chance to make this neighbourhood a part of your wedding celebrations too!
Best time to shoot: We suggest you get here early morning before the tourists get here!

Gateway of India
Although at the southernmost tip of the city, it is the heart that defines Mumbai. Imagine an early morning shoot here. The sunlight rising from the east, its golden hues bathing you, gentle sea sprays kissing your face and the view – perfection. Seriously, could it get any better than this?
Best time to shoot: Early morning, before the crowds swarm in

Ballard Estate
This area gives you a chance to dive into the hustle bustle of the city and find yourself amidst bungalows in a quiet, green neighbourhood. The iconic architecture, funky wall murals and interesting photo ops provide you with enough opportunity for a fun, eclectic photoshoot.
Best time to shoot: Early morning on weekdays or Sundays as the offices are shut and the area is quiet
#LBBTip
Do check with your photographer for permissions at these places. It'd require a few days, so plan in advance.

Comments