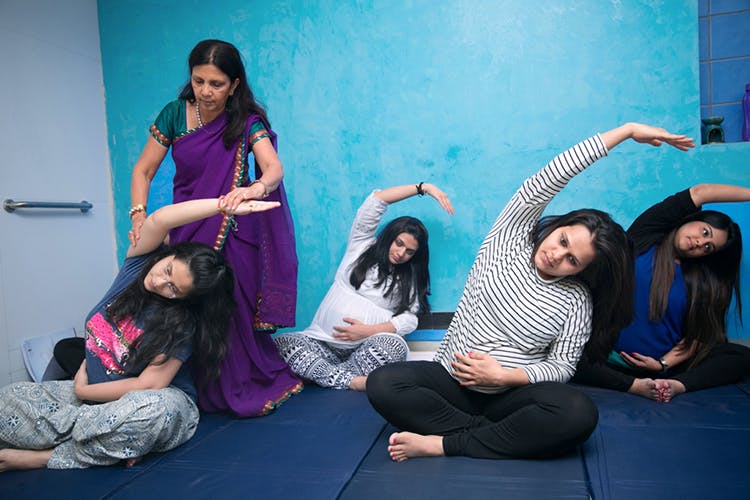 Expectant Mothers, Make Your Pregnancy Easy With These Prenatal Yoga Classes
A baby on the way? Well, hurrah – that's fantastic news. Now, all you need to do is get yourself flexible enough to make it a painless process. Your significant other may be there to hold your hand at the time of delivery, but the idea of someone telling you how to breathe while you're undergoing probably the most painful situation of your life (sure, it's perfect after the little one is out), isn't something you want to hear.
Thankfully, Mumbai has several prenatal classes that include yoga and physiotherapy sessions, to help you improve your flexibility and teach you how to breathe right, months before the big day.
Happie Bumps
Dr. Aruna Dharia has blended physiotherapy skills with pregnancy care to start Happie Bumps. There are two types – prenatal and postnatal programmes that include physical (the sessions are conducted twice a week and usually last an hour) and informative sessions
Days: Tuesdays and Thursdays
Shell Out: 10 sessions for INR 7,000 (for ten sessions-45 minutes each)
Awww
A maternity agency that aims to create an enriching maternity experience for pregnant couples at a one-stop destination through relevant and customized information, products and services, Awww offers pregnancy yoga services as part of the package. It also specializes in a pre and postnatal pregnancy care program that covers topics like pregnancy information, body change consultancy, personalized diet and nutrition, exercises, labour and delivery classes, breastfeeding and lactation classes, baby foetal brain development classes and baby childcare sessions.
Days: You can choose the days according to your own convenience.
Shell Out: INR 7,500 onward (for 8 sessions-45 to 60 minutes each
Fit For Birth
This agency offers a variety of programmes, including prenatal exercises, postnatal care, and breastfeeding techniques, depending on your requirements. Their prenatal classes begin only once you complete 14 weeks of pregnancy, all days of the week. They also have Lamaze birthing sessions for expectant couples, conducted between the 24th and 32nd week of pregnancy. These sessions cover topics related to labor , childbirth, breastfeeding and mom and baby care, and are conducted on weekends.
Days: Monday and Wednesday
Shell Out: INR 300 per session
Nine Months Pregnancy
Through 10 interactive and dynamic sessions of 1.5 hours each, Nine Month Pregnancy's pre-natal classes in Mumbai help de-mystify various aspects of childbirth while helping you and your partner make the best choices for your baby. In addition to the lectures, each childbirth preparation class also dedicates time to help pregnant women prepare their bodies for birth. Their services include breastfeeding, nutrition, labour and delivery, C-section birthing, post-partum care, father's role during and after pregnancy.
Days: Fridays and Saturdays
Shell Out: INR 15,000 (for 10 classes)
Birth N Beyond
The prenatal yoga at Birth N Beyond is a multifaceted approach to exercise that encourages stretching, mental conditioning and focused breathing. Apart from improving flexibility and strength, they ensure that the prenatal yoga helps reduce stress and improves sleep quality in expectant mothers. They conduct exercise classes in different locations in Mumbai with the inclusion of occasional couple sessions. They also offer the first trial class for free.
Days: Monday, Wednesday, Friday, Saturday
Shell Out : INR 4,000 approximately (for 8 sessions a month)
Samã birthing and beyond
They offer extensive information on preconception, pregnancy, birth and parenting. Apart from this, they focus on fitness in expectant and new mothers, making them feel healthy, strong and confident throughout the pregnancy. Classes are held through the week in Juhu and Bandra, and you can call them to book a trial class too. They organize one on ones, group, couple and/or online sessions.
Pro-Tip: they also provide lactation consultation and the classes are held at The Space in Juhu.
Days: Monday to Friday
Shell Out: INR 6,400 INR (for 8 sessions a month)
FabMoms
These prenatal classes in Navi Mumbai are great for new moms, and are one of the most popular classes in the neighbourhood. They provide support through prenatal yoga and exercises, and also help you with knowledge on breastfeeding, childbirth and pain management. They also help provide guidance with nutrition.

Pro-Tip: There are no group sessions, and only personalised pre-natal care is provided after assessment.
Days: You can choose days according to your convenience.
Shell Out: INR 5,000 (for 10 sessions a month; per session cost is INR 600)
Nirvana Yoga & Meditation
Known for their great quality of service, Nirvana Yoga & Meditation is one of the most popular choice of classes for prenatal yoga. The sessions focus on improving strength, flexibility, and breathing. They also focus on mental health.
Days: Tuesday and Thursday
Shell Out: INR 6,000 (for 10 sessions a month)
The Yoga Institute
One of the oldest organized yoga centres in the world, The Yoga Institute has their branch in Mumbai in a quiet, tranquil green corner in Santacruz. They focus on breathing, spiritual health, mental health as well as strength training and pain-management for pre-natal women. This is done only during the yoga camps, and is not a regular feature. Check their website for more updates on pre-natal care.

Pro-Tip: the prenatal yoga camp in September will be held on 23rd and 24th September 2019, and will cost 2200 INR for 2 days.
Days: Twice, every month
Shell Out: INR 2,200
Yogvan's Enlightened Parenting and Yoga
Started by Vandana Trivedi, Yogvan's Enlightened Parenting and Yoga conducts special Enlightened Parenting workshops that include yoga sessions featuring asanas, pranayams, and meditative and relaxation techniques. In these classes special care is taken to understand the impact of the mother's diet from a yogic and ayurvedic view point, along with focusing on flexibility, strength and pain management.
Days: Monday, Wednesday, Saturday
Shell Out: INR 3,000 for a month
Comments