Work While You Play At This Pune Brewery {Which Is Also A Co-Working Space}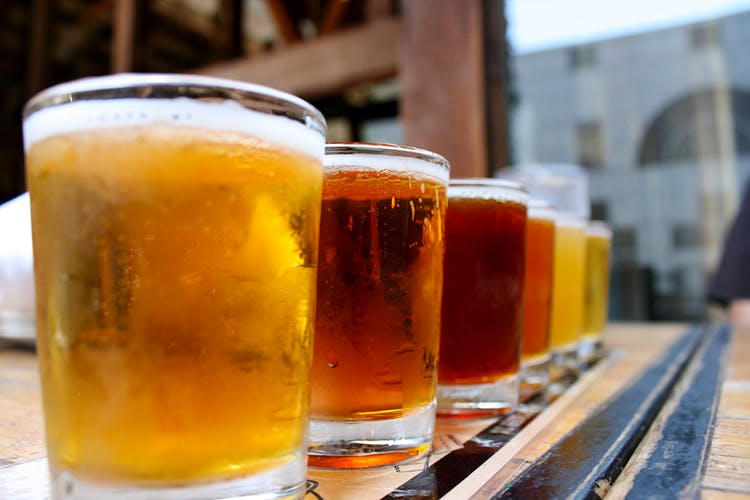 Shortcut
A massive brewery cum co-working space, Effingut Brewerkz is the place to visit when you're in Pune next.
Tell Me More
Those whose idea of a fun night out is sitting back and sipping on a beer will celebrate the arrival of Effingut Brewerkz in Baner, Pune.
The taps are filled with nine types of beers, the menu shall spoil you for choice and the venue is large, with a co-working space and a casual bar area. With music festivals taking place in Pune, it's imperative that tourists try the best beers while in the city. Highly recommended for lovers of beer, good music and great food.
This place isn't budget friendly for students, but is great for office parties and casual get-togethers. The venue is massive, and it gives one the feeling of walking into a typical pub, an old time bar with wooden interiors, beer mugs and loud rock music dominating the mood.
An interesting addition to the décor are the books, motorcycles and old records displayed on the walls. The staff is well versed with everything that is on offer. The music is a mix of classic rock, some pop and current chart-toppers. The super crisp onion rings, the massive prawns wrapped in bacon and served with sausages, Chin Mai chicken, prawn curry rice, cheese makhani and the best thing of all – the Effzza, their version of a pizza are not to be missed. And do not miss out on the Beeramisu when you reach the desserts. And of course, the beers.
Anything Else?
The old school music, the vintage charm that the ambiance exudes, the beers and the food makes it an enjoyable experience. This place stocks the best beers you'll find in Pune. While the beer, menu and even the staff seem familiar to the regulars, what sets this brewery apart from the rest is the newly added co-working space.
Yes you read that right- it really is a brewery with a co-working space. The first floor of the building is a co-working space for professionals, while casual diners can make themselves comfortable in the space below. Plus you also have access to books! Along with the books, this co-working space allows you WiFi-access and provides you with free coffee throughout the day.
So, We're Saying...
When in Pune, hit up Effingut Brewerkz and you will thank us later for introducing you to this amazing brewery.