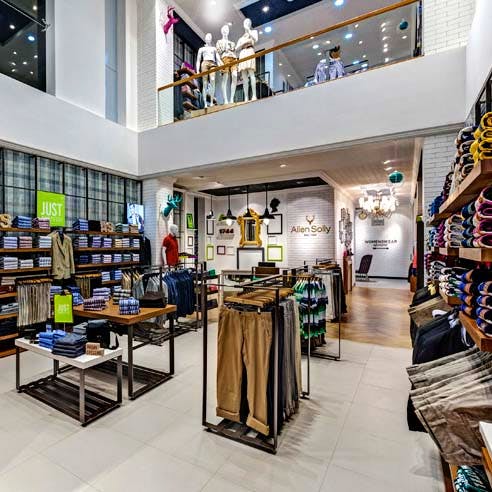 Ties, Jackets & More: Our Guide To The All-Size Men's Fashion At Raghuleela In Kandivali
Raghuleela Mall, Kandivali holds many homegrown brands, export surplus stores, and factory outlets of larger brands. A trip here showed us that this mall has tons of #HiddenGems, especially when it comes to casual wear! Read on for the 411 on shopping for men here.
Cantabil
A homegrown brand that's been around since 1989, Cantabil has a reasonably-priced range of men's formals, lounge shirts, casuals and t-shirts, as well. We loved their cool Nehru jackets, three-piece suits, and their printed blazers.
This particular branch is a factory outlet, so the prices are super competitive, and when we visited they had offers on shirts - Buy 2, Get 2 Free and upto 50% off on the whole range.
We suggest heading here to stock up on basic formals and round neck t-shirts while taking full advantage of the offers.
Allen Solly
Another factory outlet, this branch of Allen Solly is one of the more popular stores at Raghuleela Kandivali. Allen Solly's got work-friendly trousers, chinos, Friday casuals, and formal shirts. Once we entered the store, we found out they had activewear and a great range of denims, too. This store, too, had a lot of interesting offers - Buy 3, Get 4 and Buy 2, Get 2!
We think you can go here to replenish your stock of chinos, and activewear.
Louis Phillippe
This brand positions itself as the ideal one for the globe-trotting businessman with fine tastes and discerning sensibilities. We suggest heading here to buy premium formals for work that are totally worth the investment, but also available at a steal - the whole range was flat 50% off when we visited!
This one's a factory outlet, too.
Peter England
Another factory outlet, this store, too, was offering upto 50% off on the whole range and offers like Buy 3, Get 4. While this is yet another brand that has a great range of formals, we found out that they also have simple ethnic wear - think kurta shirts that are well-fitted, with cool floral prints. Peter England also has ties, belts, wallets, and a pretty neat range of footwear.
Van Heusen
While Van Heusen remains a foolproof bet for formals, blazers and the like, we went through their athleisure collection and were pleasantly surprised by how cool we thought it was. We loved the denims, sweaters and the range of leather jackets we didn't know they had!
This too, is a factory outlet, so there are tons of discounts you can take advantage of.
X-Mex
The last of the factory outlets on this list, X-Mex is a plus-size fashion brand that has super inclusive sizes up to 7XL. We found great plus size options for club wear, tracks, and blazers! Make use of the crazy offers here to - they had up to 50% off on the whole range.

Xenia
Xenia has a cool range of wallets, belts, watches, and cufflinks starting at INR 400. They also have homegrown perfume brands that are inspired by the classics, starting at a modest INR 500. We suggest heading here for the wallets and belts - they had SO many pocket-friendly options! Our favourite product, though, has to be the super cute couple watches. If you're not down for buying a premium pair, we think one of these pairs (INR 500 onwards) is a great bet.
Fuel 9
There's lots of stores at Raghuleela that had great casual wear, and Fuel 9 was one of them. With a well-curated collection of t-shirts, polo necks and printed shirts, Fuel 9's range starts at INR 500 t-shirts, INR 300 for the caps, INR 600 for the summery cotton shorts, and INR 1500 for printed casual jackets. We loved the embellished t-shirts - they're great for a guy who loves pushing the boundaries when it comes to fashion.
Fashion 9
A simple peek at this store makes it clear this one's nothing like the rest - they've got heavily embellished jackets, bedazzled caps that are SO cool and shirts with razor rips we've never seen before. You've gotta head here for outfits that are guaranteed head-turners and conversation-starters. The range starts at INR 500, and the embellished jackets will cost you INR 1,500 and up.
HumTum
While this one may seem like the average casual wear store at first glance, HumTum offers a wholesome collection of plus sizes that rivals the usual S-XL range. The shirts and t-shirts will cost you INR 895 and up, while 3XL onwards will cost you INR 1,099 and up. We appreciate that this store makes an honest effort of being inclusive, since they have clothes in sizes up to 6XL. Head here for your fill of safe casuals that you can't go wrong with.
TheBoss
Not to be The Boss of you, but we think you've gotta head here for their range of sassy slogan t-shirts. The collection starts at INR 500, and apart from the beer/cricket/football-glorifying options, they've got pretty cool printed shirts and trousers, too. They also have embellished caps (INR 300 onwards) if that's your vibe.
AllPlus
Raghuleela Mall seems to have a concentration of size-inclusive shopping options, and the last store on this list has options that are the most inclusive of them all. AllPlus deals exclusively in plus-sized clothing, and has sized from XXL to 9XL. The range of simple tees starts at INR 1095, and casual shirts will cost your INR 1,495 and up. This store will sort you out for bottoms as well, and they have sizes from 38 inches to 60 inches, starting at INR 1,795.
Ask Shreshtha a question