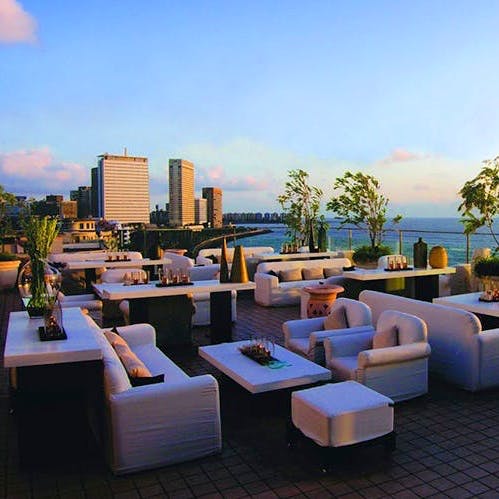 Head To These Restaurants At Marine Drive For The Perfect Sea-View
First thing that comes to our mind when we think of Mumbai is the panoramic view of Marine Drive and the Queen's necklace all lit up. The city has some of the best sea-view boulevards in town and the suburbs, and one of our favourites is the entire Marine Drive stretch. And what's even better than the view? Eating out with a view.
So check out our guide to the restaurants at Marine Drive.
Pizza By The Bay
Our favourite Pizza By The Bay not only has an envious location by the sea at Marine Drive but also some of the best pizzas in the city. We suggest you grab one of their much-coveted seats by the windows and settle in for a fab date out with friends, family or your S.O. We recommend you try the Bombay Masala and the Meat Ultimo. They also have a good selection of soups, salads, pastas and desserts.
Price: Price for two is approximately INR 2,000
Dome At The Intercontinental
Dome at the InterContinental at Marine Drive has one of the best sea-view and roof-top views. The lounge at the Dome is a favourite for night outs and clubbing scenes – with great music.
Dome is obviously slightly high end (food and drinks) so even though we may need to reach deep end of our pockets, the view and the ambience makes up for it. We suggest you try their signature cocktails like the Poison Ivy and the Honey Pollo.
Price: Price for two is approximately INR 3,000
New Yorker
New Yorker at Chowpatty is one of the oldest restaurants out there along the iconic Marine Drive. Though vegetarian, this restaurant has taken its name for serving good baked pasta and loaded New Yorker nachos.
It's a smallish space and gets really crammed during the evenings and on the weekends, so do be wary about the waiting period to get a table, or your food. We recommend the sizzlers, nachos, and their original sizzling brownie.
Price: Price for two is approximately INR 1,100
Geoffrey's At The Marine Plaza
This quaint old English pub housed inside the Marine Plaza still makes for a fitting drinking out place. With its pub-esque decor and colonial touches at the bar – Geoffrey's is possibly one of the oldest pubs in Mumbai.
Even though more and more pubs and cafes have come up in the city, Geoffrey's still retains its charm via its location, music and decor. Friday night and at Marine Drive? Head here for a quick old drink with your mates!
Price: Price for two is approximately INR 2,200
Crystal Restaurant
Crystal Restaurant at Chowpatty is another vegetarian haven for people looking out for North Indian fare. It's right next to the Wilson College and is almost 100 years old (read iconic and popular).
Crystal is a popular hangout for the SoBo kids and is known for serving home style North Indian food. There's rajma chawal, yellow dal, or even their rabdi kheer. It's affordable and serves a bit of nostalgia from the 90s and your home food.
Price: Price for two is approximately INR 350
Bachelorr's
An iconic landmark opposite Chowpatty, Bachelorrr's changed the face of ice-cream in Mumbai. And if you still haven't tried the seasonal fresh-fruit ice cream or their fruit creams here post a nice monsoon-shower, have you even moved to Mumbai?
They also make rolls, milkshakes and more amazing flavours of ice cream. It's always crowded with the locals, tourists and college kids and is open until 1.30 am every single day.
Price: Price for two is approximately INR 400
Long And Short At The InterContinental
Long and Short is at the InterContinental at Marine Drive comes with a beautiful view and expansive menu. Considering it is housed inside a hotel, the place is generally always open and gives a beautiful view through the different time of the day.
Of course, it's not a budget friendly place so if you're in the mood to splurge, head here.
#LBBTip: The also do a great Sunday brunch in which you get unlimited buffet and drinks (INR 1,990 for non-alcoholic brunch, INR 2,500 for brunch with IMFL drinks, and INR 3,500 for the Champagne brunch) exclusive of taxes.
Price: Price for two will cost you approximately INR 2,200
Comments