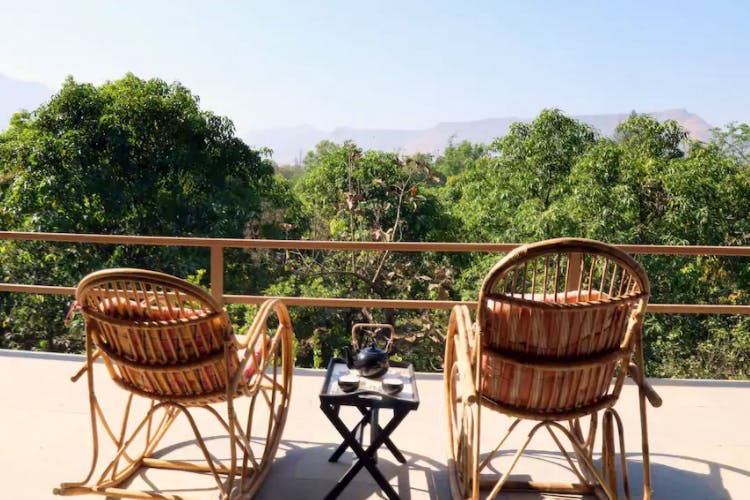 Wash Away Your Week's Stress At This Riverside Property In Karjat That Overlooks The Valley
What Is It?
Santoni Farms is a 3BHK riverside villa surrounded by greenery and a serene mountain view. Located in Karjat, the property is right next to a flowing river and is very secluded. The villa is fully furnished with 3 bedrooms, 3 attached bathrooms, one living room, fully equipped kitchen and a big lawn.
How Do I Get There?
The villa is located in Karjat and can be driven to very easily. If you take the Mumbai-Bengaluru Highway, you will take around 2 hours to cover the 78.3 km distance. You can also take Mumbai-Pradhanpur Road or Mumbai-Pune Highway- either will take you almost the same time.
What's So Unique About It?
Since the villa is secluded and if you are worried about getting bored, let us assure you that they have plenty of activities that will keep you engaged; for example rifle shooting, cricket equipment and ball machine, rain dance, trampoline, archery and badminton. They also have cute hammocks where you can curl up with a book.
Apart from the river view rooms, there is something else very unique about the stay. There is a farm right next to the villa where you can have a unique experience of organic farming of various fruits and vegetables. An organic farming tour can be organized at an added cost.
They have mini wall climbing, rain dance, speakers and mini golf too.
So, We're Saying…
If you want to enjoy a scenic view and spend some quality time with friends and family, this is just the place for you. The price per night is INR 13,120 and the property can accommodate up to 16 guests. You can find more info here.
Comments