The information in this post might be outdated
Mumbai's Royal Opera House Has Reopened After 23 Years: See The Amazing Photos Here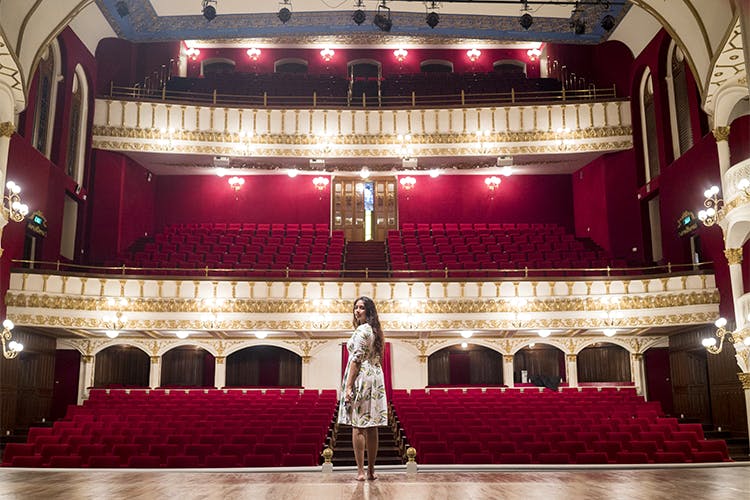 Shortcut
The iconic and celebrated Royal Opera House recently opened its curtains again after a 23-year-old hiatus.
Owned by the royal family of Gondal, the building was first an opera house, then a performing arts stage and when people last walked in, 23 years ago, a single screen theatre.
In 2010, the royal family appointed conversation architect Abha Narain Lambah to take on the mammoth project of restoring the gorgeous structure and transporting it back to its glorious days.
With 574 seats, three boxes and 3 sections to sit in, the Royal Opera House is a massive, albeit at times intimidating space. Despite its name, the place offers a lot more than just opera you can come here to watch live music performances, theatre acts, comedy shows and even book launches.

There are three levels – the royal stalls, the dress circle and the grand balcony. Although most people grab the first row of the royal stalls, we hear that it is only towards the upper half of the seats, and the dress circle that offer the best view. Don't tell.

In case you really want to travel back in time, reserve the royal box to get a special cordoned off place for two. Grand plans, anyone?

The auditorium is beautiful in red, with baroque work on the pillars and ceilings, crystal chandeliers, and crimson velvet lining the floor and seats.

The rest of the building is equally stunning in its own right. The main and upper foyer have beautiful tiles, structures and a magnificent light streaming through its tainted windows.

Original artwork has been restored from 100 years ago, including a dome with paintings of popular artists, poets and playwrights of the time such as Shakespeare.
They have recently even opened a jazz club, The Quarter.
Follow them on Instagram here to be awestruck of the space, and in the know of what's coming up. Will we find you there?

Comments