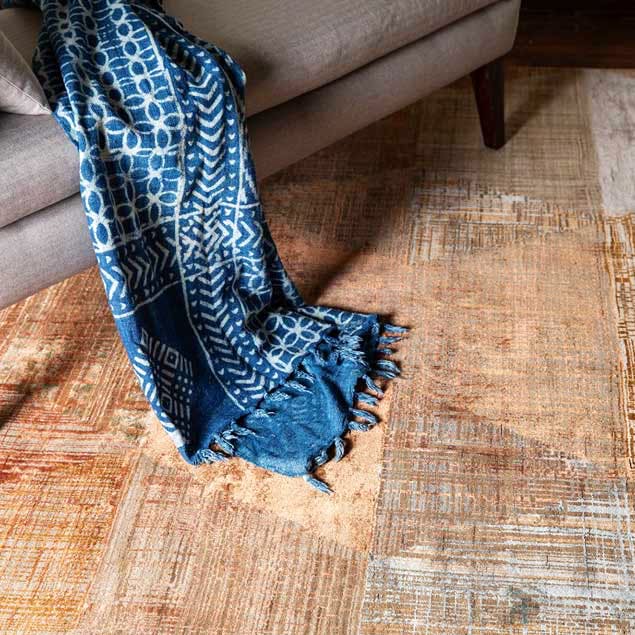 Wanna Brighten Up Your Room? Where To Buy Beautiful Rugs, Carpets & Dhurries In Mumbai
Setting up your home is always fun. Deciding the corners, decor and the kind of aesthetics that make for the best vibes. However, we believe the most underrated decor piece in all of this are the rugs. They, in their subtle way, add colour and warmth to the house. Check out our guide to buying beautiful rugs in Mumbai.
Variety Furnishings, Bandra
We told you about Variety for picking up affordable sheets, curtains and everything else for furnishing your house. However, they also have amazing rugs and that too at an affordable cost. They have colourful rugs in all shapes and sizes. The best thing is they are really affordable. The rugs start at INR 400.
Bombay Store, Multiple Outlets
The Bombay Store is one our favourite stores for catching up on home decor. They have some of the quirkiest rugs, linens and curtains. They have an entire section dedicated to rugs, and carpets. The cosy one with fibres, the ones with funky patterns or animal patterns and the ones with Kashmiri wool and silk as well.
The rugs start at INR 2,500 upwards (depending on the size). We also spotted a cute elephant printed rug but it cost around INR3,500 (a bit steep but a great investment). Whereas, the prices for the carpets start from INR 7,500. (again, depending on the size)
Shyam Ahuja Rugs, Worli
Shyam Ahuja Rugs is one of the most popular rug maker in the city – and so we've been told by Mumbaikars. From silk rugs to khadi rugs to any other fabric, he makes them all. They are available in all shapes, sizes and pattern so you'll be spoilt for choices. Minimalism, fine patterns and bright colours is something you'll spot in most of their products.
On the higher end of the budget, a small-sized rug would start INR 2,500 - 3,000 upwards.
Venjara Carpets, Babulnath
Established in 1961, they're undoubtedly pioneers in the carpet market offering a range of products including rugs, wall-to-wall carpets, customised carpets, artificial grass etc. The carpets which are made in India are hand-knotted ( a special technique of carpet making) carpets which are made using traditional skills of artisans from states like Jammu and Kashmir, Uttar Pradesh etc.


The price range of their services start from INR 10 per sq feet and go up to INR 10,000.
Mehra Carpets, Worli
Mehra Carpets has been in the business for more than 50 years now. Started by Mr. K.K Mehra, it has come a long way since then. The not-so-humble basement-cum-store in Worli is like a Bedouin tent – lined with carpets as far as the eye can see and beautifully so. In our honest opinion, if carpet heaven were to exist, it would be this. From the Caucasian and Kilims, to the Kashmiri silks, Bokharas and even the Kashans - they have approximately 2,500 carpets.
Jaipur Rugs, Lower Parel
Known for their artisanal hand-knotted rugs and giving traditional carpet weaving a new lease of life, the Jaipur-based label, Jaipur Rugs, has over 40,000 weavers across 5 states. When we paid the store a visit (it's right inside Sunmill compound), 23 were flabbergasted with the size of the space, the minimalist design, earthy tones, and overall theme. Be prepped to see tons and tons of luxurious carpets that epitomise contemporary designs.
PS- The flagship store also features special edition collections from designers like Gauri Khan, Aetemis, Jennifer Adams and Luli Sanchez.
Carpet Maker, Nerul
This one's a super detailed and a colourful store we spotted in the Seawoods Grand Central Mall. From Iranian to Afghani and from Kashmiri to Turkish - they have carpets of from different regions. The price range of the carpets starts from INR 5,000 but goes up to a whopping INR 10,00,000 as well.

Need wooden flooring, floor carpeting, or PVC flooring? Carpet Maker's got you covered for those too. Outside of the carpeting realm, they also sell wallpapers and artificial grass.
Comments