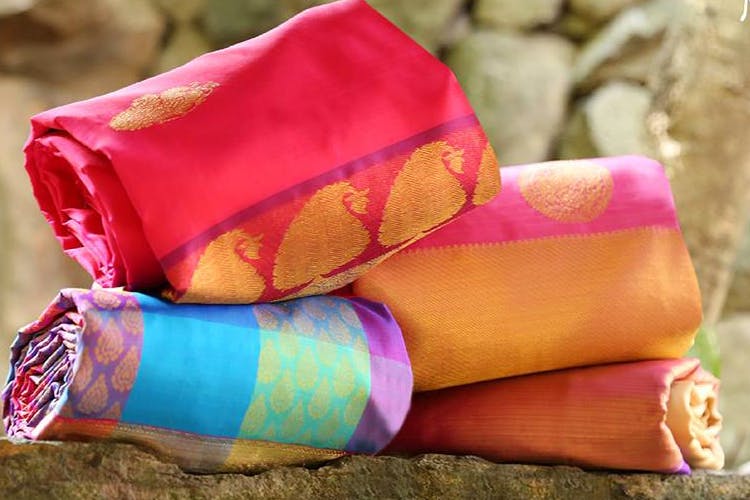 Authentic Silk & Handwoven Sarees: We Explored The Amazing Matunga Saree Market
Anushka Sharma wore it on her wedding reception and so did Deepika Padukone. Bollywood beauty Rekha flaunts her collection of these at every occasion. Yes, we're talking about authentic, rich and traditional silk sarees – which till date refuse to go out of fashion. It's simplicity, elegance and bold prints always make us fall in love with these.
And what's a better place to get your hands on authentic silk sarees than the Matunga market. We've listed some of our favourites!
Nalli Saree Centre
Ask the locals or the residents of Matunga for authentic South Indian silk saree recommendation, and everyone's quick to say: go to Nalli's in Telang Road. After walking into the tiny lanes of Matunga for a while, we finally discovered this store. It was huge, minimalistic and an extremely spacious store with multiple shelves stocked with neatly folded sarees. From pure silk to semi-silk and from cotton to chiffon – this 40-year-old store has it all.

However, their speciality is pure silk sarees for almost every occasion including weddings. From dark shades to light ones and from bold prints to simple sarees – they are sure to spoil you for choice. While the range of these sarees start from INR 3000 they go up to a whopping IR 1,50,000. The range for their cotton silk sarees start from INR 800. So, we're saying if you have a wedding or an Indian occasion coming up, try a new South Indian look with their elegant sarees. And yes, pair these sarees with gold jewellery and you're set to ace the Indian look.
Milap
Well, this 37-year old store claims to have sarees from every state of India – from bandhani in Gujarat to Chanderi in Madhya Pradesh and traditional silk sarees in Tamil Nadu to Pashmina saree in Jammu and Kashmir. So, they have every kind of saree – ikkat, patola, gadwal, dharamvaram, organza, maheshwari - under one roof. A pleasant showroom in Matunga, Milap should be your go-to for ultimate designer collection which includes sarees, lehengas, indo-western outfits etc.
The pure silk sarees start from INR 8,000 and go up to as much as INR 1,00,000. And their beautiful kanchivaram sarees start at INR 10,000. They also offer a multiple designer collections of lehengas and indo-western outfits starting at INR15,000. Our favourite pick? A black bandhani saree with colourful hand woven thread work.
Kishore Silk House
This is another great saree store for traditional South Indian sarees. While they specialise mainly in silk sarees which start from INR 5,000 they do have other options as well. We loved their onam saree collections which were pretty white silk sarees with golden prints and border. Perfect for those who like simple and minimalistic Indian wear. Umm, remember Deepika Padukone slaying the onam saree in the movie Chennai Express? Yes, that's the saree we're talking about.
Pushpam Silk
Although it was a pretty tiny store, it was surrounded by multiple saree lovers – all eagerly checking out the saree displayed by the salesmen. Unlike other stores, this one's majorly dedicated solely to silk sarees. This store too is pretty cost effective with their collection starting at INR 3,000.
Variety Store
You can hit up on this store if you're looking for some affordable silk sarees without losing out on the elegant and chic look. Majority of their saree collection were in dark shades including royal green, black, dark pink etc. What made these look even more elegant was the thick gold printed border. The range for saree started at INR 1,500. Apart from saree, they even had ready-made shirts and lungi fabrics for men.
Mahavir Sarees
From elegant white chickenkari sarees and fabric to rich bandhani sarees, this store gave us the much-needed break from silk sarees and fabrics. Every saree type had a dedicated shelf making it easier for us to go through their varied range of collection. While the silk sarees start from INR 8,000, the bandhani ones start at INR 4,000. For those who love Lucknowi kurtis, they had a bunch of those in light pastel shades.
#ProTip
All these stores are located on the long-stretched Bhandarkar Road in Matunga. There are tons of stores for sarees and Indian wear. We'd say go through a few stores over the stretch before you make a purchase because each and every store has varied collection. You wouldn't want to regret making a quick purchase and then finding something better!
Comments