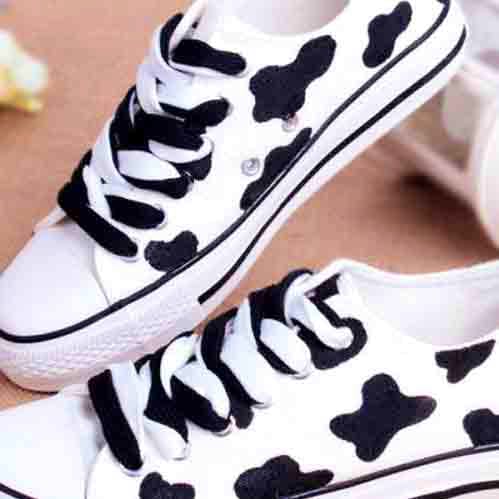 Score Sneakers Under INR 1,500 In Bandra
Gather around, sneakerheads for the time has come to declare your love for sneakers and hate for obnoxious prices. Why pay INR 8,000 for a pair of shoes when you can get one for INR 800? Keep this list close and your wallets, closer.
Fashion Feet
Tucked away in the Link Square Mall, this little store stocks a great selection of sneakers, loafers, and sandals for women. We loved a cute red-and-white striped lace up pair and an ultra sporty grey pair with dark laces. Best of all, the owner is super helpful and will make sure you find your perfect fit. Prices start at INR 600 onwards.

La Judi, Hill Road
If you're on Hill Road, we suggest you drop into La Judi. Their collection is massive and there is something for everyone. We loved a pair of space-age silver sneakers and a trendy black pair with a mesh toe at INR 800 here, both pairs were super comfortable too. Their collection is always on-trend, so you're sure to find the latest styles you're looking for, and at these prices, it's a steal! Prices start at INR 500 for jodis and INR 600-800 for sneakers.

La Dolce Vita
Situated bang on Hill Road, La Dolce Vita's bright pink sign is hard to miss. The roadside stall has an extensive collection of flats, sandals, and sneakers. We loved a sea-foam green pair here and a white pair with red and green detailing at INR 600. Prices here start at INR 500.

Sagar
Sagar on Hill Road carries not just shoes, but also a collection of men's' wear and women's' wear too. We visited during their annual March sale, so all items were an additional 20 percent off, which is even easier on your pockets. We loved a pair of purple sneakers here and a pink pair with floral print. Prices start at INR 1,400 onwards.
Funky Collection
This Hill Road store has a vast collection of footwear and accessories to choose from. If you love a bit of bling in your wardrobe, this is the place to pick up those bedazzled and glitter accessories to complete your look. Our pick here is a pair of pink sneakers with glitter embellishments and black and silver stud detailing at INR 1,599. You'll also find more classic options at INR 1,399 in store.

Comments