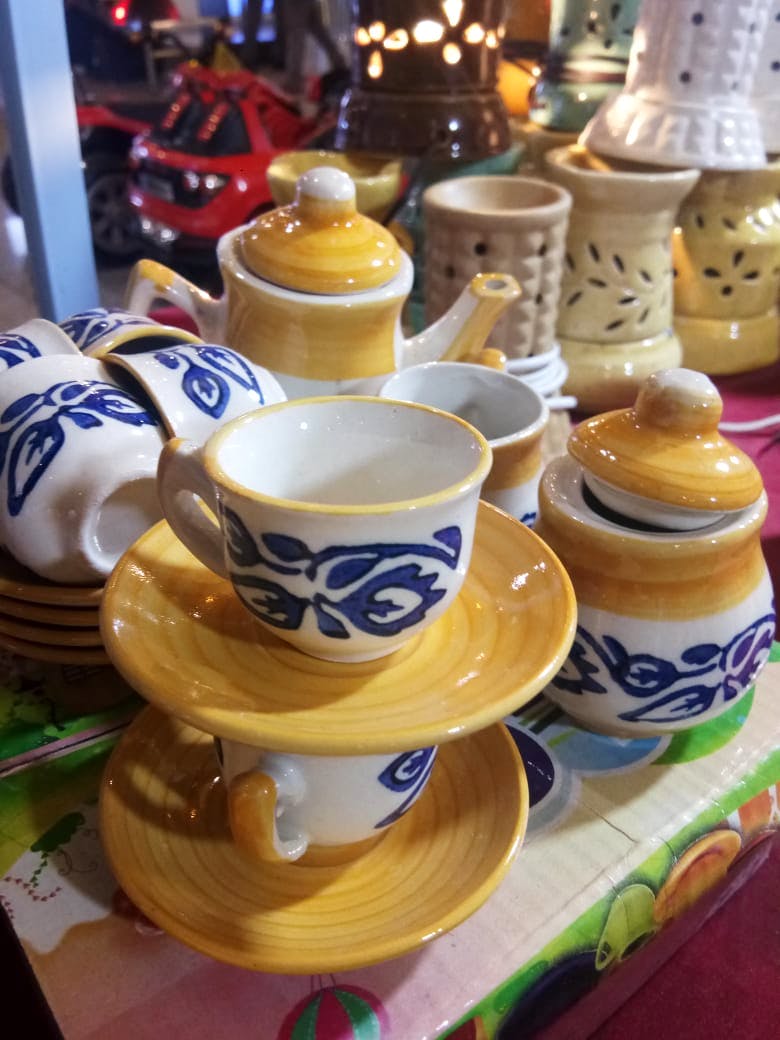 Gifting Woes? Seawoods Grand Central Mall In Navi Mumbai Has Something For Everyone
Navi Mumbai has more to offer than what meets the eye. And one of it's blessings to Maharashtra is the Seawoods Grand Central Mall. This humongous one million square feet mall is home to brands both big and small, and is supposedly the country's largest transit-oriented developement mall.
From shopping, to food, to entertainment and what not, Seawoods Grand Central seems to up the mall game in every sense, and the variety of stores literally clean bowled us. While there's a lot to shop from, we zeroed down on a few brands that have the prettiest, trendiest, and quirkiest gift items, home decor, and accessories to offer. Read on.
For The Fragrance Fanatic
The Perfume Store
The ground floor of the mall smells of all things good, courtesy-The Perfume Store. This brand specializes in Arabian ittars that you'd instantly want to take home. We couldn't select just one so we applied almost all the offbeat fragrances. Our favourites (yes, there's more than one) were the coco butter, coffee, green tea and caramel ittars. And in case you're a lover of fragrances, or have someone in your life who just can't do without smelling good, you know what to buy them. Also, one can customize an ittar according to their personality. Interesting, isn't it?
P.S- Apart from just ittars, they also keep face and body scrubs, car perfumes, air fresheners, incense sticks, shower and hair gels.
Price range: INR 400 onward

Ajmal And Sons
This brand has been there in the picture since 1951, and has an amazing collection of incense wood, citric and fruity fragrances. We fell for their 'Mukhallat Alzam' and 'Lahadhaat'. Majorly a fragrance brand for men, all their perfumes and fragrances are created, developed and manufactured in-house. They've got French masterpieces, oriental classics and also offer to customize a fragrance for you.
Price: INR 700 onward
Accurate Key Services
We found a small store inside the mall that not just sells quintessential door and two-wheeler keys, but also has expertise in keys that millennials would relate to. The chains have Captain America, Thor and Hulk engraved on them. For all of you who're fans of Avengers, Accurate is your go-to store. They've also got Shinchan key chains, and the Princess Diaries themed keychains.
Price: INR 90 onward
Florica
Got a friend or someone special who loves receiving flowers? This flower delivery service has a physical store in Seawoods Grand Central from where you can pick some gorgeous lillies and roses and almost all flowers for your person. They also have a midnight cake delivery service for special occasions and all you've gotta do is call. You can also buy some chocolates, greeting cards, dry fruits and soft toys from them.
P.S- You've gotta check out their flower combos for Mother's Day, peeps.
Price: INR 1,000 onward
Gute Reise
In Germany, when people say Gute Reise, they're wishing you a happy and safe journey. Since life's but a journey, you've gotta invest on great travel essentials. And in case you're looking for an ideal gift for your solo-traveller friends or want to buy something for yourself, this brand must be added to your list. They've got swiss army knives (a must-have for women who trek or travel alone) trolleys, flasks and bottles, travel pouches, rucksacks, tent-gear, cooking stove for the mountains while trekking, watches, and much more. We personally loved the funky designs printed on the Swiss knives and we insist you get one.
Price: INR 2,000 onward
R Handi Creation
Does your friend go gaga over crockery? Or are you someone who likes to stock up on good-looking ceramic pieces? R Handi Creation might just be living proof of all your answered prayers. They've got the prettiest of Martabas, cup and plate sets with bowls in mud color, and miniature kitchen sets made of clay. Their soap dispensers are a good catch with lucid features and an affordable range.
Price; INR 200 onward
For The Lover Organic Beauty Products
Organic Harvest
This premium brand has offerings like organic face washes, lotions, oils and much more at reasonable price ranges. If you're a believer of the organic way of life, go for their green cucumber or neem tulsi toner, anti-tan scrub, and the all-season night cream. They also have a lot of variety in lip balms. There's hibiscus, lily, lemon, green tea, pomegranate, and shea butter, all starting at INR 199.
Price- INR 99 onward
Nyassa
Get your loved ones a customized hamper from Nyassa, a brand that specializes in handmade soaps, lotions, body butters, bath salts, lip balms, home fragrances and more. What's interesting is that they've got handmade sugar free soaps in Alphonso, green apple and strawberry fragrances. And soaps are a great gifting option, trust us. From INR 300 onward, you'll love how exotic their products are. Nyassa's also got gift sets starting at INR 499 that come in beautifully wrapped boxes. Time to order one, perhaps?
Price- INR 150 onward
Kayaa Ved
This one's got some kickass hair protein packs, almond oils, papaya soaps, deodorant creams, and some desi solutions for the scalp. What's more is that they offer free consultation for acne and hair loss treatment. You just need to make sure that you book an appointment in advance.
Price- INR 200 onward
For Clocks, Buddhas, And Artificial Flowers
When you don't have a clear picture about what to gift your friends or fam, you need a gift store that encompasses all things cutesy and quirky. And Hashtag at Seawoods Grand Central is a haven for it. They've got miniature clocks, buddha statues to adorn that side table you have, and pretty lamps and lights. Just head to the store and choose your pick (thank us later)
Price: INR 250 onward
Comments