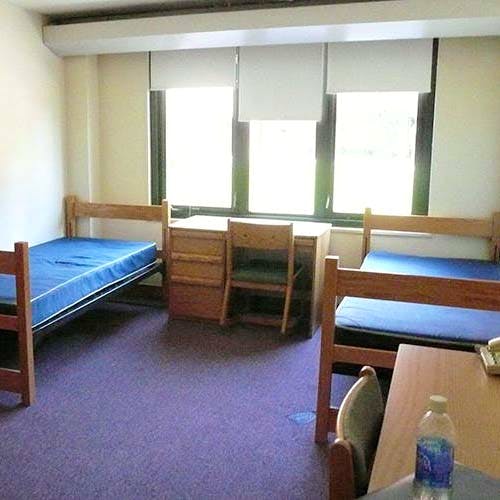 Sharing A Room But Want Your Own Space? These Ideas Are What You Need
You know, sometimes we think Mumbai as a city is no different from a local's coach. It fits in millions but how is still a mystery. If you are or will be a part of this madness soon and are living with a roommate, get some ideas here. So that you don't end up treading on each other's space. After all, space is really what we are fighting for in this magical city.
Divide And Rule
Forget the Britishers, we're talking about taking it easy with privacy in your shared room. Make sure you have an off-time zone that you can easily access. It could be in the form of a curtain or a wooden screen – whatever floats your budget boat. Go for zany curtains or a beautiful wooden screen, so that the room retains its decor charm. Or better, go for colourful blinds.
Check out some options for curtains at Pawar Mattresses & Furnishings
Make Your Own Den
If you prefer watching your own shows and not getting out of bed for days, The Pod is for you. It a bed and entertainment unit which not only separates your zone, but is a separate world on its own. If you're best friends with you roomie, invite them over too. Best part, it comes set up for everything you might need to create your very own nook to Netflix your weekend away!
You can rent these pods from Furlenco, an online furniture rental service.
Sharing Is Caring
If you don't want too much furniture cluttering up the house, share a biggish bedside table and divide the compartments. Get two small ones is also an economical idea, provided you have the space.
If you love vintage or old furniture, you can always check out Chor Bazaar for great options.
Smart Moves
If you are a bookworm and so is your roommate, get a double-sided bookshelf and use it as a partition between your beds. This way, you have your designated space and access to your books. You can even get a rotating one in case you share your books with your roomie.
Buy them online or head to Oshiwara furniture market to fin some gems. They can even make one for you.
Work A Little
If both you and your roomie spend time working or studying at home, we think a desk plus storage space works as a great divider. The desk and working space creates a boundary between the two sides or a room and its also super functional so you can get your girlboss on!
Ikea has several modern options that perfectly fit a contemporary home and city living.
Hang It Up
Transform one wall into a flexible storage space by creating a pegboard wall. This wall can be used to hang up your own personal items, floating shelves and more.
You can shop online on Etsy.
Snooze Time
We love the idea of a loft bed if you're lucky enough to have high ceilings. It's a great way to optimize smaller spaces and create a sense of privacy. Create a small mezzanine and use the split levels to your advantage to create a more personalised space that you can call your own.
Cama beds has a selection of space-saving beds you can check out.
Solve Your Storage Woes
Love the coffee shop vibes but lack the space to get an actual coffee table? You could always use a chest or a trunk with storage, which can double up as your coffee table too. Pair it with a comfy chair, and not only can you get the nook you've wanted, but you'll also get some extra storage space for your books, mags, games and whatnot.
Check Gujarat Trunk Depot for oversize metal trunks or if you're more into thrift or vintage styles, there's always Chor Bazaar as well.
Plants Make For A Happy Space
Do you and your roomie both love having plants in your home? If the answer is yes, then why not create a plant wall as a divider between your two spaces. This way, you've not only breathed some much needed life into your shared space, but also created a sense of privacy too!
Check out Ankur Nurseries and My Bageecha for plant ideas.
Get Painting
Using different toned walls can really help demarcate one space from another. Paint your walls different colours to add a personal touch to your own space or use a unique wallpaper that suits your personality!
Check out Marshalls India's No. 1 Wallcoverings if you're looking for wallpaper options.
Comments