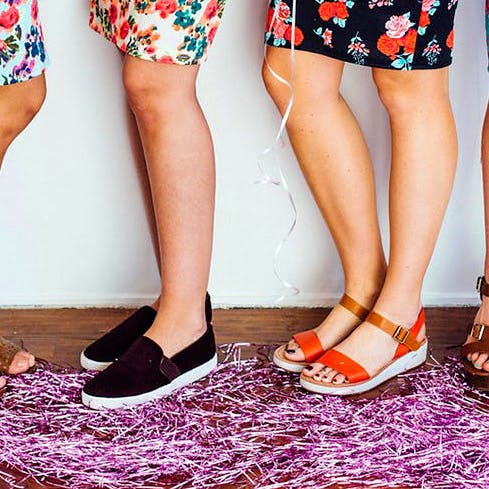 Happy Feet: These Stores In Mumbai Cater To Women With Big Feet
Back in the day, finding plus size clothes was a problem. Fast forward to today when new brands are continuously innovating and coming up with versatile options and popular brands are increasing their bandwidth in size. When it comes to shoes, people (especially women) still struggle to find the perfect shoes for large feet. We decided to explore Mumbai to find places that might help you find the right size in a variety of stylish options.

Payless – Up To Size 11
Payless, a store located in Kurla West has a wide variety of pumps, heels, sneakers, wedges and more. It is known for its versatile collection of footwear for women with big feet. If you're someone who loves your boots or fancies cute slippers, this store will definitely cater to your needs; they have various options for your size. If you want to skip the travel, just check out their website online.

Champion Sports – Up To Size 11
Fitness freak but your shoe size doesn't let you find the perfect shoe for you? Hit up Champion Sports in Marine Lines for multiple options of sports footwear to choose from. While you're there, don't forget to check out the other sports gear they sell (you're going to end up shopping for more than just shoes, we're sure!).
Steve Madden – Up To Size 10
No footwear aficionado in their right mind is going to say no to a pair of Steve Madden (even we wouldn't!). The variety they have when it comes to statement footwear is amazing. And now, you don't have to think twice about your foot size before becoming a Madden girl. Steve Madden has a collection up to size 10. Check out the stores in Palladium, Lower Parel and Phoenix Marketcity, Kurla.

Metro Shoes – Up to size 12
Our regular haunt since childhood to pick up canvas shoes for school, Metro Shoes has now become our go-to store for any kind of shoes. They have options for women that go up to size 12 (that's amazing, isn't it?). Women with gorgeous big feet can now walk around with the footwear of their choice, with pride. Check out their collection across all the stores in the city.

Anupam Chappals – Up To Size 11
If you have lived in town, there's a slim chance you wouldn't have heard of or seen Anupam Chappals, a street-side stall that is a mecca for all those who love ethnic footwear. They specialize in colourful Kolhapuris that go with any outfit of your choice. The Kolhapuris for women are priced between INR 400 to INR 700, while men's Kolhapuris are priced between INR 800 to INR 1,000. Their collection goes up to size 11.

The Shoe Duet - Up To Size 10
The Shoe Duet caters to every kind of a woman who enjoys her heels but doesn't have it in her to bear the pain. Focused on making heels comfortable both, for working professionals and women who are always on their feet managing a busy lifestyle, TSD has ensured that while providing comfort, they don't compromise of style. They have amazing options up to size 10. They can also customize a size bigger if you want. Read more about it here.
Decathlon - Up To Size 12
When it comes to hunting for a pair of perfect sports shoes, Decathlon has always been on our top list of sports brands. For those with big feet, your search for comfortable sports shoes ends here. With an array of variety to choose from, Decathlon offers shoe size up to 12.5. So, you don't really need to settle for those slightly tight shoes for your walks and workout, when you have this brand which comes at your rescue.
Pro-Tip
A lot of women in the city recommend Westside and Charles&Keith. Check those out too!

P.S.- The same size might vary across brands, so please measure your product before you buy it.
Comments