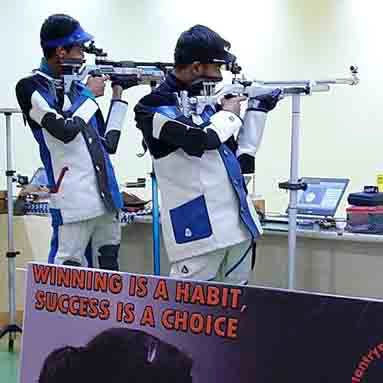 Bang, Bang! Top Shooting Academies In Mumbai You Should Take Aim At
Imagine if the city of dreams, Mumbai takes these four words into its stride- load, aim, fire, repeat, instead of the usual eat, sleep, rave, repeat? If you've been craving something new and a new thrill as well, here is a list of the top rifle and pistol shooting academies in Mumbai that you must check out.
Maharashtra Rifle Association, Worli
The Maharashtra Rifle Association (MRA) is the top body looking into the sports in Maharashtra. Founded in 1969, their shooting range in Worli has one of the best facilities in the state. The training facility for air weapons and small bore rifles is open throughout the year, with certified and well trained coaches available the whole year round. The ranges consist of indoor 10-metre air weapons range (part air-conditioned), 25-metre range with automated turning target system, and 50-metre range. They offer a basic rifle and pistol shooting course that's priced at INR 5,000 for residents of Maharashtra, INR 7,000 for Indians living outside the state and INR 10,000 for foreigners.
For persons domiciled in Maharashtra, life membership will cost INR 50,000; for individuals below 18 years, it will be INR 35,000. The ordinary membership is INR Rs 18,000 entrance fee and INR 3,500 yearly renewal. For persons who are citizens of India but not normally domiciled in Maharashtra, PIO's and OCI's, ordinary membership will cost INR 25,000 entrance fees and INR 5,000 yearly renewal.
Lakshya Shooting Club, Vashi & Panvel
Lakshya was established in 2006 in Panvel by Arjuna awardee Suma Shirur to provide excellent rifle and pistol shooting range facilities with world class coaching. Comprehensive practical and theoretical training is provided to the club's bonafide shooters. The basic foundation course costs INR 4,000 (one month course from the date of enrollment). It offers flexible timings during the range's operation hours only at both the facilities in Vashi and Panvel. Options for special corporate packages for group courses with prior appointments are also available. They also have a one-day crash course that you can enroll in if you are interested but short on time. The one-day crash course takes place over a two-hour duration and will cost you INR 1500.
Gun For Glory, Dombivali
Twelve lanes, 10-metre range air rifle and pistol training facilities are available at Gun For Glory with a carefully designed shooting complex which houses state of the art equipment and infrastructure. Expert coaches, physiotherapists, dieticians, yoga specialists impart all round development of individuals. First shot (air weapon) level one training costs INR 4,500. The duration of course is 12 hours spanning over a week (2 hours per session) with four batches daily.
Level two training (advanced pistol and rifle), costs INR 7,500 for 15 days. Sessions are 2 hours long each. Level three training is more specific and will narrow down to using either a rifle or a pistol (based on level two) and will help you prepare well if you are looking at participating in state level events. The duration of the course if 3 months and it costs INR 30,000.
Savarkar Air Rifle Academy
This rifle club has garnered nation-wide reputation by achieving 5 international, 35 national and 66 state level awards in various competitions. Its visited by national and Internation champions to train the young lot. They offer two courses to learn shooting- the basic and the advanced. Both these courses are taught by professional shooters and cover theory as well as practical sessions. The former course takes about 15 days, for you to pick up the skill of shooting. And the academy gives special discounts on the courses if you directly visit it.

Academy of Air Rifle Shooting
If you, or even your child is interested in learning how to master the art of shooting, then bookmark the Academy of Air Rifle Shooting, that's run by Mr. Jawahar Joshi and his team. Here, the art of shooting is taught with the motive of propagating air rifle shooting as a sports activity that has several benefits. You'll know how to concentrate better, learn reflexes, the body's coordination with the mind, be self-confident, and relieve yourself from stress. Try out their one-day intensive crash course, that's ideal for all air rifle and air pistol lovers.
Note: This is a training and certification course, and make sure you enroll on time (for which you can refer to the site)

Comments