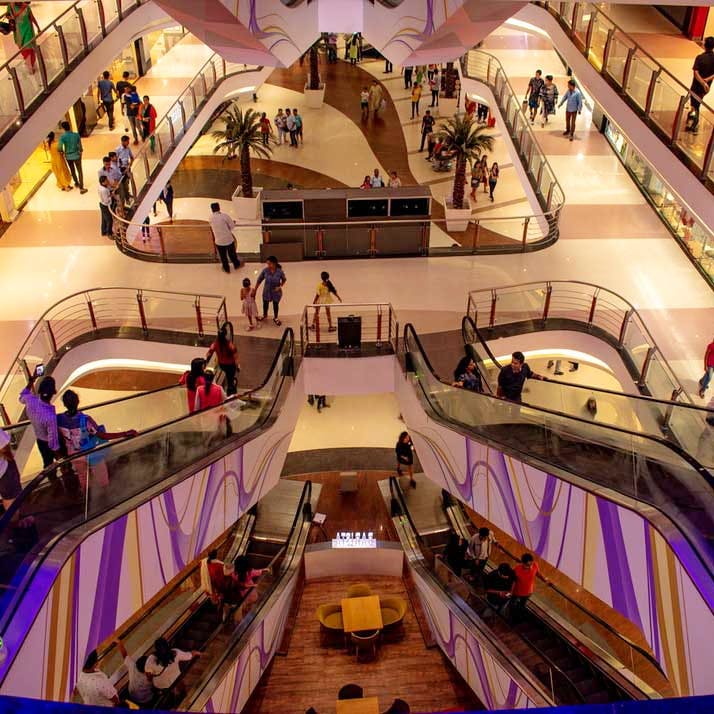 Glam Up: Our Guide To All Things Shopping In Atria Mall
Atria's a world of it's own when it comes to culinary expeditions - Thai, Indian, Cocktail Bars, French... You name it, and it's probably there. But sometimes, you get there way before your friends do. Or your mom's stuck in traffic, and she can't join you for the next half hour. Or, you got there early because you wanted to finally see all the shops you've been meaning to pop into for a while. Don't worry, we did the legwork. Leggo.
Bargain Book Hut
Whether you're a bookworm or not, BBH has a lot of stuff that'll warrant your attention. So apart from having a great selection of books at reasonable rates, they've also got random fandom merch, bags, stationery, and games, too! So basically, if you're at Atria for a friend's birthday, and you've got no gift, head here. STAT.
FBB
It's your dependable, easy place to shop from when it comes to the basics, the everydays, the non-negotiables. Tees, tops, jeans, kurtis and pocket-friendly formals - FBB will sort you out for them all. We love an economical store, and we love that it houses so many brands.
Psst: They have a great collection of accessories that you must check out too!
Go Colors
We've always loved Go Colors for the sheer variety of designs they have in the same fabric - cotton polyester. Palazzos, straight fits, cycling shorts, narrow fits, you name it! The best part is you can pair them with so many things. Throw the palazzos on with kurtis, shirts or even loose shirts. The narrow fit ones can go with kurtis, or long t-shirts. So comfy, so good.
Joolry
A significantly different brand compared to the last two, this premium joolry brand has been at Atria since 2006. We loved the fact that even though it's not gold/platinum jewellery, the brand owns the medium it uses, and even uses a rhodium and anti-tarnish plating so the metal doesn't turn black. The range is quite premium, even though it doesn't use precious stones/metals.
Azalea
Azalea by Purvi Doshi is a bespoke fashion brand that's popular with the city's creme de la creme. The store itself in Atria isn't huge, but the products on display are oh-so-opulent. It's a flood of organza, sequins, dainty embroidery, bright colours and feminine silhouettes. Phew!
Genesis Jewels
While Genesis deals in both real and imitation jewellery, the imitation jewellery's our pick! It's always better to get more bang for your buck, no? This brand fashions jewellery with regal, timeless designs and often has semi-precious stones taking centrestage, forming brightly hued statement pieces.
Crockery Hut
Crockery Hut screams bougie! A single sojourn to this store will make you want to throw out every unbecoming spoon and fork your kitchen drawer holds. Get matte-finish serving spoon sets, bejewelled ladles, grand stoneware and opulent mugs (yes, it's a thing) here. It's all priced very steeply, so be prepared to splurge!
CellFi
CellFi does cute (or cool AF) mobile cases for all manners of phones. if you're running out of reasons to keep your phone covers, you know where to head. Seriously, Just check it out. And, drag that friend with that torn plastic phone cover here as well.
Thea
Thea is Genesis Jewels' sister concern, but with more new-age and hip jewellery. Here's where you'll get infinity symbols, feathers and more young motifs. This range is premium, too. The only difference is it's more fresh stuff rather than contemporaries/classics!
Decathlon
We really did save the best for the last, didn't we. Decathlon's our go-to for... Scratch that. Decathlon's just our go-to. We're crazy about Decathlon, even though its not everyday (or ever) that we're purchasing boats, surfboards, tents and skating gear. Head here for workout clothes, umbrellas... Just head here.
Comments