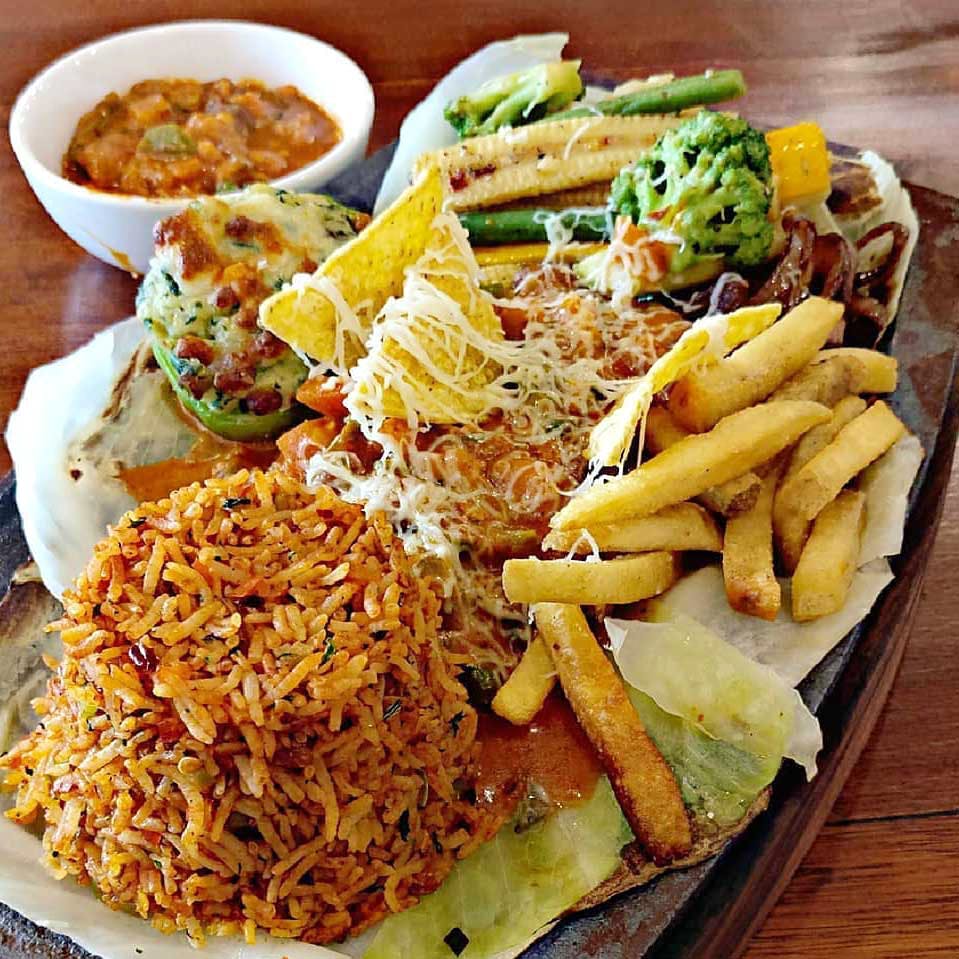 Sizzle Things Up: Sizzler Joints In The City You Must Visit
Few things are as comforting as a piping hot plate filled with fries, rice, veggies and juicy chunks of steak (or paneer!) We absolutely dig sizzlers, and we don't wait for a cheat day to enjoy a plate every now and then. If you're as crazy about sizzlers as we are, head to our favourite places where we know you'll get some of the best sizzlers in Mumbai!

Kobe Sizzlers
No list of sizzler places is complete without a mention of this iconic establishment. We've been regulars since forever, and maybe even learnt to love sizzlers thanks to their preparations! They have an impressive menu of sizzlers, and if you're too confused about what to order, the Shashlik is a safe (and delicious) bet.

Pop Tate's
This one's been a college favourite, and it's safe to assume that we've tried all the sizzler options on their menu. There is a wide variety of options available for both vegetarian and non-vegetarian sizzlers, and coupled with their ever-running amazing booze deals, this makes for a great dinner once in a while.
Gondola
This restaurant in Pali Hill is heaven for meat lovers. If you're ever in the mood for a mean hunk of steak, head to this restaurant to get what is probably the best in the neighbourhood. The portions are large, so if you're not too hungry you can easily share it between two.
#LBBTip – This cozy dining space also serves up some great burgers.
Yoko Sizzlers
This one's another classic, and is known for serving some of the best fish sizzlers in town. They're priced higher than the other sizzler joints, but because their portions are large, one plate can easily be shared between two. The Fish Shashlik comes highly recommended.
Tea Villa Café
This café might be known for its teas, but their vegetarian-only sizzler menu is quite the find too! We stumbled upon their limited menu one evening, and the rest, as they say, is history. Their options, though only vegetarian, are spread across a variety of cuisines and every order is a foolproof hit.
Café Royal
Reserved for special nights thanks to the price range, this one's a lovely restaurant in Colaba that has some unique flavours and even the option of customizing your sizzler. We highly recommend the Filet Mignon Steak Sizzler.

Alps
This hidden gem is another one of our local haunts when we're in SoBo. Hidden between the lanes that separate Causeway from the Taj, this restaurant might look like a simple beer joint, but wait till you bite into their meaty steaks and sizzlers. Their non-veg Mix Grill is our favourite, and combining this with a pint of chilled beer is the recipe for a memorable meal.

Fountain Sizzlers
There's always a long line here, and for good reason! They serve some of the best sizzlers around, and even have vegan and gluten-free options on their menu. If you're a serious meat eater though, you're going to love their Tenderloin Garlic Steak Sizzler.
Ovenfresh
Ovenfresh in Dadar is a great place for vegetarians to enjoy sizzlers. They might not have a lot of options, but each dish is well worth the money. You can head over to enjoy value for money deals, and we're sure you'll be making multiple trips to this eatery thanks to their delicious preparations.

Qila De Vaashi
If you're in Navi Mumbai, this is the best restaurant to head to if you're in the mood for comfort food. They have a vegetarian and non-vegetarian menu, and their unique flavours will have you coming back to try all of them! The Butter Chicken Sizzler is our favourite.

Comments