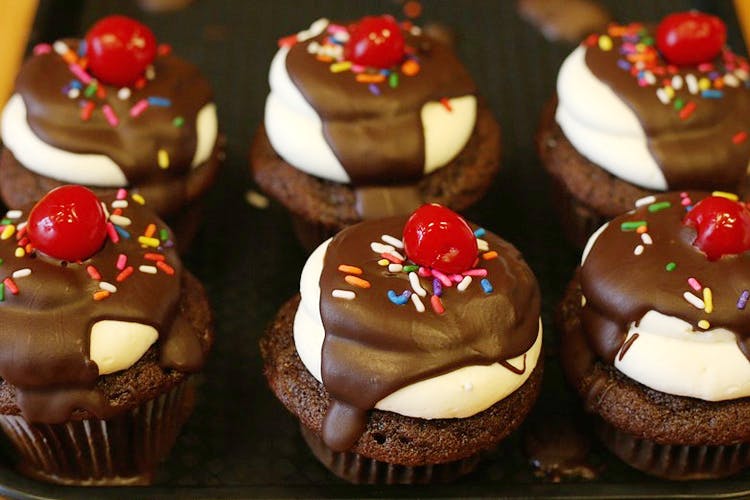 Visit This Restaurant For Your Daily Fix Of Comfort Food And Desserts
Shortcut
Most of us associate Srinathji's in Lower Parel as a dessert-only joint that serves some delicious vegetarian cakes and pastries, but there's so much more to it. The restaurant serves great vegetarian snacks to keep you going through the day.
Chow Down
This vegetarian-only joint offers a mix of Italian, Mexican, Thai, Lebanese, Oriental Chinese, and Indian (South Indian & Punjabi) along with a combination of international breads savouries, sweets, and cakes.
Srinathji also serves up a mean chaat, parathas, and sizzlers. It also has a huge variety of sandwiches (paneer, cheese and many more) along with freshly baked bread you can buy (we've tried their sweet buns, baguettes & the cheese and herb loaf). If you love chivda, mixture and wafers, you'll find a large variety on display, from diet to khatta meetha and even mixed farsan and gathiya.
If there's a birthday or any special occasion, this Lower Parel restaurant is one place to go to for all your cake needs (mind you, it's only vegetarian). Most of the offices in the area are known to order celebratory cakes, pastries and sweets from this famous joint. They have more than a hundred types of cakes for you to pick from, apart from the specials like cheesecake, fondant cakes and photo cakes.
The average cost of two will come to INR 650 approximately, if you're dining here.
So, We're Saying…
Although Lower Parel is known to offer an eclectic mix of cuisines and flavours, Srinathji's has always been one of our favourites, for its sheer variety. So, if you're on the hunt for some comfort food in that region, you know where to go.
Comments