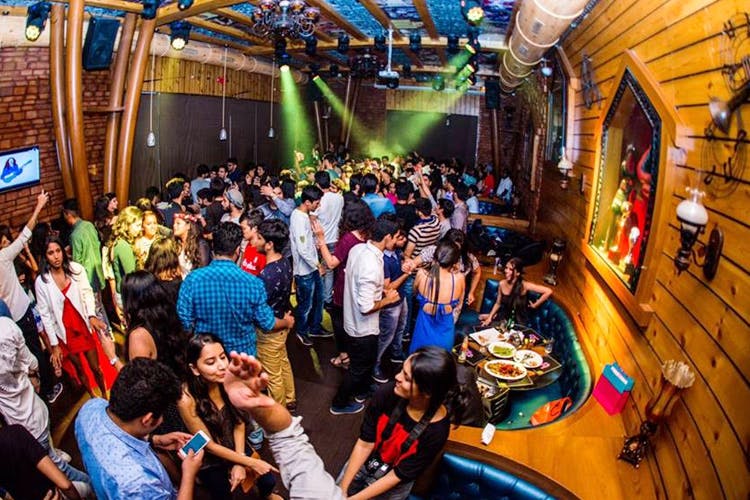 Goodfellas, Don't Be Left Behind: Here's Our Guide To Stag Entries In Mumbai Clubs
Mumbai is a great city for parties and socialising scenes. However, if you're a stag aka a single guy or a gang of guys, it often involves being turned down at the door. Just to make the night life easier, we've rounded up clubs in Mumbai that will allow paid stag entries so you aren't the lone wolf of the group.
Dome @ Intercontinental
One of the most beautiful night clubs in the city overlooking the sea, Dome is an envious tick mark to a night scene. Though Dome is strict about their entry rules (read dress code), we've been told stag entries are allowed, especially on a weekend.
What's the cost?
No extra fee for stags. However, this one is completely on the discretion of the club rules and their capacity.
Bombay Cocktail Bar @ Andheri West
This cocktail bar in Andheri Westa trending nightlife spot. With its diverse cocktail menu and a huge space – it is perfect for the night outs with your gang. Added couples and single women have free entry till 10p.
What's the cost?
Male stags have an entry fee. Be prepared to shell out INR 3,000 upwards on the weekend. The cost is redeemable against food and beverages at the venue.
Opa! Bar & Cafe @ Andheri East
Opa is one of the few clubs in Mumbai to stay open till almost 3 AM, even on weekdays.
What's the cost?
Couples and single ladies have free entry. However, if you're a male stag and want to try out your luck at the door, the cost is INR 3,000 on Tue, Fri and Sat nights. The cover is redeemable against food and drinks at the bar. The rest of the week, walk-ins are free. Do adhere to a dress code here!
AER - Four Seasons @ Worli
AER is again a lavish night club in Worli with a beautiful location. If you haven't been here yet, you ought to for the view, music and drinks. Though exorbitant and expensive, it's for one of the special night out plans.
What's the cost?
Stag males have an entry fee, dependent on the day you turn up. If you're a group of guys, there's a higher chance of getting in.
The Daily Bar & Kitchen @ Bandra
Another Bandra favourite, Daily is always full on the weekends with the flooring disappearing under the dancing shoes. We suggest you make a reservation if you can, as getting in on a Friday night is hella tough!
What's the cost?
There's no stag entry – all are welcome to go in.
TAP Resto Bar @ Bandra & Andheri
TAP Resto Bar is a lively place to check out on a weekday or weekend. We especially love the Bandra one, with its outdoor ambience. They also do 90s music which is great post two-three drinks.
What's the cost?
They charge a flat INR 1,000 as cover charge which covers food and drinks for everyone.
Asilo - St. Regis @ Lower Parel
This high end club at St. Regis is often perceived as an exclusive club and in all fairness it is. However, we've been told they don't much of an issue with stags.
What's the cost?
If you're a group of four guys, you'll be let in. However, their entire stag policy is dependent on the discretion of the staff member at the door. If you're a large group, and you're a single male, chance of you getting in higher.
#LBBTip: Dress code is essential.
Comments