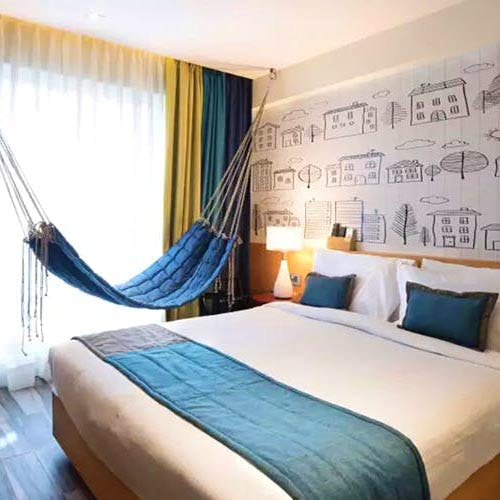 Suites With Hammocks & Sea-Facing Villas: Check Out These Unique Staycations In Mumbai
Ten-Second Takeaway
Sometimes we just need a little R&R, but don't feel like heading outside the city. In case you're too lazy to pack your bags and leave the city, check in to these staycations in Mumbai instead. Bookmark them, and pamper yourself, within city limits.
Abode Boutique
Abode is literally the abode of our dreams that is hidden away in a quiet and cobbled lane of Colaba. The former home of Sir Sassoon David, this space has now transformed into one of the most beautiful boutique hotels in Mumbai.
European decor, wooden staircase, art-deco accents and rooms that combine both heritage and modernity– it's a great place to simply relax. The basic room price starts at INR 4,500 upward. It comes with original restored teak flooring, contemporary furniture and artwork. If you're in the mood for luxury, their superior luxury rooms come with gorgeous tiled flooring, vintage furniture, and artwork plus the added bonus of a view of Colaba. This is the most expensive option at INR 10,750 onwards.
Read more here.
The Gordon House
The Gordon House is another lovely staycation in Colaba and we recommend checking in when you're in the mood for some rejuvenation, but have no time to travel.
This boutique hotel is an ode to different countries, for all three storeys are themed around different countries/continents. There's the Mediterranean floor that keeps it charming, country-side floor that keeps it simple, and the Scandinavian floor that keeps it minimal. A standard room here would start at INR 6,999 (off-season price), and a luxurious suite could go up to INR 12,000 per night. And the suite is French, mind you.
Read more here.
Hotel Aureole
Head over to this hotel in Andheri East which offers a relaxing staycation for people who lucked out, or simply were too late to book that weekend getaway. But hey, this hotel makes up for it all. If you end up booking a suite – be assured it comes with a gorgeous city view and a hammock. Say what? No lies there, folks. Prices start at INR 3,000 for a single room and INR 3,500 for a deluxe double room.
Read more here.
Homestay In Bandra
We don't know about you, but living in Bandra is a dream – cobbled streets, numerous eateries and churches render it a certain charisma that no other neighbourhood possesses. If you're looking for something cosy and quintessentially Bandra, then head to this Airbnb property for a relaxing time. Filled with art work, each room is beautifully decorated in a blend of contemporary and vintage accents that we love!
Priced at INR 5,200 per night for two people, it's a great way to enjoy a private getaway without leaving the city.
Read more here.
Colaba Homestay
Or you can be a townie and head to this Colaba and forget everything else. A gorgeous penthouse in a century-old heritage home, is perfect if you're looking for a place to unwind in SoBo. The penthouse is equipped with all the modern amenities including a microwave, fridge, AC, TV and more. Check in here, roam around South Bombay, and just enjoy yourself.
For two people, it comes down to INR 5,000 per night per room - each room in the apartment is rented individually so the common space is shared.
The Resort
The Resort in Madh overlooks the sea, has a pool and is honestly everything that you want out of a simple vacation. Whilst you're staying here, you can head to the beach, chill in/or by the pool and not end up burning a hole in your pocket.
If you're looking to splurge, check out the suites complete with a private deck. For INR 6,499 (approximately) you get book a standard room per night. You could even check out their beach villas for INR 30,000 per night. There are only two villas and they get sold out early, so we suggest booking well in advance. The villas come complete with private lawn, two rooms, a bathtub and a Jacuzzi and can accommodate up to 6 guests.
Read more here.
Homestay In Dahisar
If you're only looking for a home away from home, literally, then check into this homestay in Dahisar which is run by mother-daughter duo and their pet dogs. Bombay Boutique Home is an Airbnb property and is just the kind we love.
Run by Ranjana Patil and her daughter, Krushnaa, the homestay has the cosiest space, a huge swing in the living room and dogs on the property. If you're looking for cuddles and more, go here.
For INR 2,300 per night, you can book this homestay.
Comments