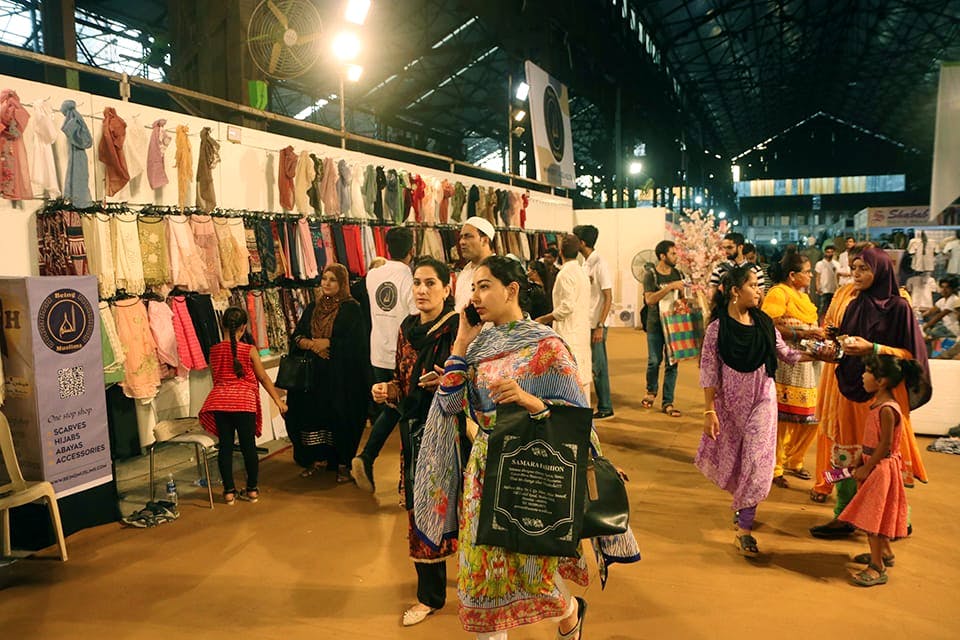 Budget-Hunters, Keep This List Bookmarked For Street Shopping In Mumbai
Shortcut
Mumbai and shopping go hand in hand, but we all know that it's the deals that drive us nuts. These are the best places for street shopping in Mumbai!
Colaba Causeway
If two things fit well together, they would be the words 'Colaba Causeway' and 'cheap shopping'. The street of shops in Colaba have given us everything from good kohlapuri shoes, amazing junk jewellery, great clothes and more antique knick-knacks.
If you've been there before, you know just what we're talking about, and if you haven't – what are you waiting for?
How to get there: If you're not heading there by cab, get off at CST/Churchgate and then take a kaali-peeli. Or... Walk it if you're pumped enough!
Pit stops: The stalls outside Cafe Mondegar, Bata and the ones near Leopold. PLEASE bargain hard, and let 'em know you're no tourist!

Best for: Junk jewellery, antiques and semi-precious stones (loose and in jewellery)
Fuel up at: Because you're street-shopping, keep the food local! Head to Baghdadi, Alps or Gokul. *Wink*
Now that you're here... Catch a movie at regal, chill at Gateway, or head to Maffy's for a Middle Eastern dinner!
Linking Road
At Linking Road, you can shop for a full ensemble (an outfit, shoes and some jewellery) all under INR 1000, and still have cash to spare. There's a healthy mix of both street shops (where your bargaining skills must be on point) and regular showrooms so you can switch it up as you like.
You can also check out Link Square Mall for lots of export shops. Pffft, OF COURSE we've covered it. Read here!

How to get there: Get off at Bandra Station, and join the (long, LONG) autorickshaw line on the Western side. You'll easily get share ones as well.
Pit stops: Link Square Mall, and the line of shoe shops near Sole 2 Soul!
Best for: Shop for clothes, and sandals from here. There's the odd jewellery shop, but clothes are where it's at!
Fuel up at: Bastian if you're feeling fancy, or Jai Jawan's!
Now that you're here... Carter's. Chuim. Chapel Road. When you finish shopping for your loot, show it off with a photoshoot at these super 'grammable locations!

Hill Road
This stretch may not be as populated as Linking Road, but there's still tons to shop for here! But we won't bore you with the details here.
How to get there: Same, just get off at Bandra station, and take an autorickshaw from the same queue. In fact, just cover both Hill Road and Linking Road on the same day!
Pit Stops: Everything on THIS list!
Best for: One of our best footwear finds is quite close by - head to La Judi for ALL kinds of shoes. Hill Road's got partywear boutiques and even VINTAGE boutiques!
Fuel up at: The Latin Mess, Punjab Sweet House, Ashmick's Snack Shack... You're in Bandra, yo!
Now that you're here... Head to Soul Fry for a night of karaoke (if its a Monday!) or to Carter's for the sunset. Alternatively, if you're feeling dancy, head to House of Tipsy!

Fashion Street
On a hunt for a good deal? Fashion Street is another place in SoBo where locals haunt for bargains. Go here for the cheapest clothes – starting at INR 200, shoes and bits and baubles.
How to get there: Quite close to Bo,bay Gymkhana, though any cabbie would be familiar with this stretch.
Pit Stops: Aight, this whole stretch is a huge pit stop in itself. You're just gonna have to scour every stall in this, but we promise it's worth it!
Best for: Stick to shopping for tees, tops and jeans from here.
Fuel up at: Churchgate Khau Galli, or head to Jimmy Boy/Britannia & Co.
Now that you're here... Marine Drive is an amazing place to spend your time. Alternatively, eat some seasonal ice-cream flavours at K.Rustom, or head to Ministry of Games if you're only physically tired, and mentally uppity.

Andheri Lokhandwala
Burbies, this one's a treasure trove. Yes, this one's got store after store as far as the eye can see, but street shopping wise, they've got tons of options, too! This one's the healthiest mix of big brands, smaller brands, independent boutiques, and pure street-shopping.
How to get there: Catch a local to Andheri, and take an autorickshaw to Lokhandwala market.
Pit stops: Replay, and the stores opposite McDonald's that have great export surplus clothing!
Fuel up at: Breadkraft Rolls, Guru Da Dhaba, Monsoon Chaat Centre, or Super Sweets
Now that you're here... Catch a film at the PVRs, Fun Republic, or Inox close by, or head to Versova beach. Alternatively, take a stroll along the back road and try the amazing street food - momos, chaats, soups and juices!

Comments