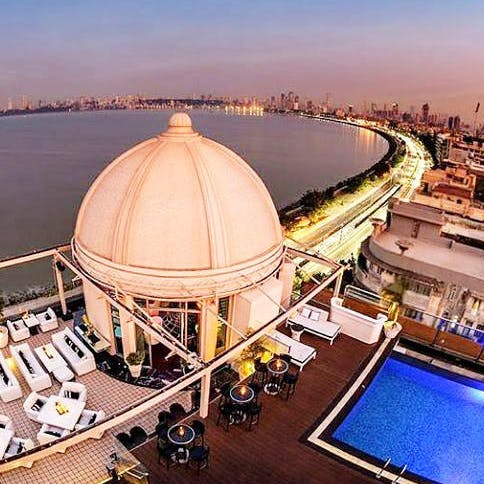 What A View: Enjoy The Monsoon At These Sea-Facing Restaurants In Mumbai
Like the sound of waves creating a symphony while you eat? If you love the sight of the sea, then take your partner, or even yourself, to these restaurants on a perfect rainy evening.
Gadda Da Vida
The lounge resides seaside at Novotel in Juhu. The view here is unmatched and you'll often find couples soaking in the scenery while sipping on a glass of sangria here. You can gorge on dishes like gunpowder calamari (INR 550), three mustard chicken (INR 750), lamb kibbrh (INR 750) and more. Maybe, do the customary chai and pakoda session here?
The Marina Upper Deck
Rendering a panoramic view of the sea, The Marina Upper Deck sits comfortably atop the Sea Palace hotel in Colaba. They serve cocktail samosas (INR 290), prawn wontons (INR 490), spicy lamb with pepper sauce (INR 500) and cocktails to go along with your food.
Estella
The Australian restaurant has been creating waves (literally) among foodies. It's the only eatery that serves authentic Australian dishes on you plate, while you enjoy the seaside. Probably also the only eatery that serves kangaroo (INR 1,600).
Sea Lounge
If you want to go all fancy, head to The Taj Mahal Palace's Sea Lounge. Sip on coffee, along with scones, turkey sandwich, chaat and potato wedges. Feel all British while you take a break from life.
Seaside Patio
A rather humble one in Juhu, they have meal combos for INR 450. Their tables are laid out on the patio, from where you can admire the sea in all its glory.
Razzberry Rhinoceros
The old favourite that has reopened after years, Razzberry is the hub of gigs and fine food. You can catch artists performing here on weekends. Their signature cocktails come at INR 600. Also, how about a beachside brekkie here?
Bayview
Located on the terrace of a hotel facing the sea in the line of Taj Mahal Hotel at Gateway of India, Bayview Cafe is the perfect place to grab a chilled albeit cheap evening beer while munching on yummy snacks.
Anyone who needs a mildly secluded place to relax and take in the wind and sea, would be happy to chill at Bayview. It's an extremely budget-friendly rooftop joint, where you can go with your buds to grab a few beers or wine while enjoying the beautiful sea view.
The vibe here is very casual and the sea view is obviously the highlight. The service is quick since it's a pretty tiny place, so if you're getting to know someone new, and want to take them someplace low-key so you can have a conversation over beer, then Bayview is the place.
Go here to drinks chilled beers, eat light snacks and enjoy a beautiful sea view.
Aer - Four Seasons
AER is on the 34th floor of Four Seasons hotel, and has a gorgeous view of Mumbai. They play great lounge music that is loud enough to groove to but soft enough to be able to hold a conversation over without having to yell, 'what?' multiple times.
If you're confused about what to wear, the dress code here is smart casuals, and men, we'd advise you to wear full pants and closed shoes. Ladies, keep it smart and keep it stylish. With a view like the one AER's offers, you can sip on some drinks and watch the sunset. Since this is a lounge and not strictly a club, there is no entry charge. It is getting a table on a busy Friday and Saturday night that's requires a cosmic interplay of luck and more luck, so we recommend booking in advance.
Radio Club
One of the oldest clubs in Mumbai, Radio Club in Colaba is a quintessential old-world club with billiards, snooker, badminton, swimming pool and some delectable club cuisine.
A members-only club in the heart of Colaba, Radio Club is one of the oldest in Mumbai. Known for its breathtaking view of the Gateway of India and opening to the vast Arabian Sea, this club offers you amenities like a badminton court, billiards and snooker room, a swimming pool, a gym and sauna bath and more. It also has a guest house facility available only to the members.
Famous for its club cuisine like club sandwiches, french fries, kebabs etc, its members swear by the food here. The most ordered here are the chaats, though. The bhelpuri, sev puri and the pipping hot bhajiyas. The chicken lazeez is a must have to.
Farm House Sea N Sand
This place is located in a remote corner of Vasai, near the seashore. The restaurant has two seating areas - one at the rooftop and other in the balcony of the first floor. You can enjoy the sea view with the cool breeze along with good music playing around. They serve seafood which is fresh and delicious.
They do serve vegetarian food which is equally delicious.

Dome, InterContinental
Picture this: a glass of whiskey, cool breeze and a breathtaking view of the sea. Sounds too good to be true? At Dome at InterContinental, Marine Drive, this is a reality.
Go to this gorgeous lounge for some amazing food and fantastic drinks. The view of the city is breathtaking and if you're lucky and happen to be here during sunset, you will be awestruck. In fact, it feels like a surreal experience. While you can choose from an array of drinks and food, we suggest you call for a fish platter for sure.
Cafe Sea Side
A café near Bandra Fort allows you the best seat in the house – right by the sea.
Café Sea Side has been around for years, and you may remember it from the family visits to Bandra Fort. It's still around, and for those who haven't been, have a beautiful, uncurtained view of the sea through their window. On their menu, they have a bunch of Chinese dishes, and at certain times they have chaat like pani puri, pav bhaji. Most people go there for just a sandwich and the view of the water.
Although Café Sea Side definitely won't be receiving laureates for its food, it does win with the vacation. Go there with a book, grab the bench by the water and enjoy the breeze.
The Oriental Blossom - Marine Plaza
A luxurious fine dining restaurant within the sea-facing Marine Plaza, this place is known for it's authentic Chinese and seafood cuisine. Their bright and artistic decor is sure to remind you of the bylanes of China right in the heart of Mumbai.
Revival
Gorging on a sumptuous thali while enjoying the sea view sounds desirable, right? Well if you have the appetite and have been craving the sea, then Revival Restaurant in Girgaum is your haunt.

Revival Restaurant at Girgaon Chowpatty is one of the oldest restaurants in Mumbai serving authentic Indian food. Revival Restaurant is a vegetarian place known for their thalis – a lavish spread of dishes that includes dishes from various parts of the country. Their Revival Golden Thali is an unlimited thali that serves four vegetables preparations, four types of dals, served with types of rotis and puris, two types of rice, three farsans, a sweet (to be picked from a choice of three), chaas and aam panna along with pickle and pappadum.
Comments