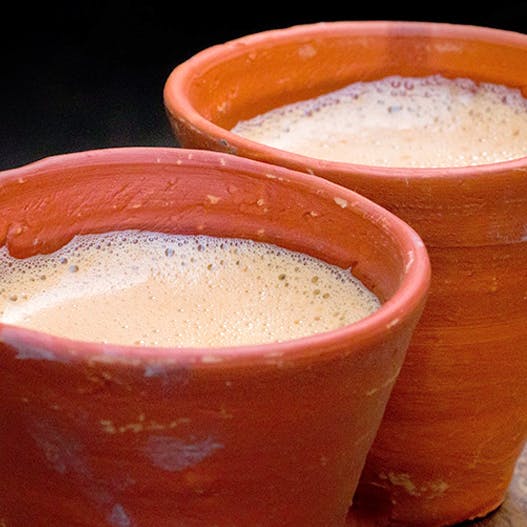 Craving Tandoori Chai? Bookmark These Awesome Spots In The City
Chai is passe, and since we're all about staying updated with all the trends, we're currently obsessed with tandoori chai. That piping hot cup of milk tea, now with the subtle flavour of clay cooked tandoor; we could totally kill for a cup right now! Here are our favourite places to enjoy the best tandoori chais around Mumbai.
Jhakaas Tandoori Chai
This place is said to have turned non-chai people into some serious chai-lovers. This beverage shop in Airoli is famous for chai and bun maska, but you'll see this tiny placed packed all day as tandoori-chai lovers drop by to enjoy a sip of this elixir as they take a break at work.
Price: INR 20
#LBBTip – drop by for a quick cup of tandoori chai, as this place has no seating arrangement.
The House of Misal
The House of Misal in Dadar is another hot spot for tandoori chai lovers. In fact, finishing a light lunch or even breakfast with a hot cup of tandoori chai comes highly recommended by patrons who throng to this restaurant for meals of missal and tandoori chai. We suggest heading over on a weekend to enjoy an early Maharashtrian breakfast.
Price: INR 30
#LBBTip – they also serve 18 different types of missal. *drool*
Chai Pe Charcha
Served in a kulhad, the tea has a distinct smoky flavour that will have you ordering the second (maybe even a third!) cup. Pair it up with some bun maska, and you're good to go. We recommend a visit to this restaurant in Vikhroli for a super early breakfast before heading out for the day.
Price: INR 59
Dilli Tandoor
If you're in the mood for North Indian comfort food around Malad, Dilli Tandoor comes highly recommended. While the food has won a set of loyalists, it's the tandoori chai that we're obsessed with. Their special tandoori chai is served in a kulhad, and if you ask us, we'd recommend heading here on an evening to enjoy a light tea-break.
Price: INR 35
Assal Tandoori Chai
If you're in the mood for some smoky flavoured tea in Thane, head to Assal Tandoori Chai which is located in the bylanes of Talao Pali. If you're a serious tea-lover, you cannot miss out on this experience. They also serve bun maska so you can always drop down for a quick snack. But if you ask us, this tea works at any given time of the day!
Price: INR 35
Sai Tandoori Chai
This tiny restaurant in Chembur is packed with people all throughout the day, mostly those who've come to enjoy a cup or two of royal tandoori chai. This eatery also serves munchies like maggi, sandwiches, bun-maska and toast, so you can drop by anytime to enjoy a quick meal with some of the most flavourful tandoori chai in the neighbourhood.
Price: INR 39
Comments