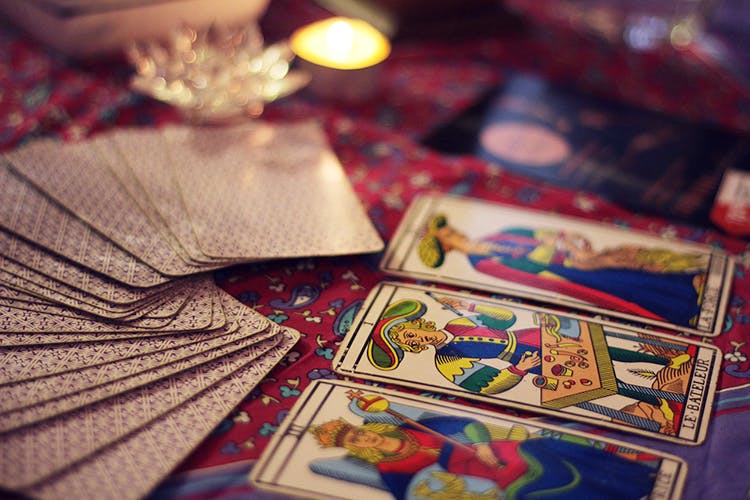 Your Future Awaits: Our Guide To Tarot Card Readers In Mumbai
Shortcut
Tarot cards are a very special and unique form of divination that originated in the late 18th century. Practitioners of tarot card reading have a unique way of connecting with people and predicting a life path to offer solutions to their problems. If you're a believer and would like to go in for a session, we've rounded up six tarot card readers in Mumbai.
Roop Lakhani
Roop Lakhani is based out Bandra West and has been reading tarot since 2000.
What To Expect: Roop offers traditional tarot card reading (based on the questions). However, she also has her own set of cards for karmic reading. Based on the past, present and the future, it teaches how to be at peace with oneself.
She has different readings based on love, career, health and more – all based on the client's needs. She will come home if it's a big group.
The Fee: For an hour-long session, it'll cost you INR 3,600 and INR 2,000 for half an hour. She also does it question wise, and it's INR 300 per question.
Contact: You can reach out to her on +919821612031 to book an appointment. She also does telephonic and over-the-Skype readings.
Pooja Shirasi
Pooja Shirasi has been reading tarot cards for the past 16 years. She keeps shuttling between Pune and Mumbai and around the globe for her work.
She deals with traditional tarot card readings and also teaches it. Apart from this, she does Angel Card readings, Chinese Astrology, Ancient Runes, Scrips and more.
What To Expect: She is based out of Bandra, but will come home for readings as well for more than one person.
The Fee: For a standard session of 45 minutes, it's INR 2,000. For Chinese Astrology, along with a detailed report until 2050 will come down to INR 3,000. However, if you're looking for a few questions it can be reduced to INR 1,000 per session.
Contact: You can email her at poojashirasi@gmail.com.
Anisha Hasija
Anisha Hasija though is based out of Pune. But, she has a house on Peddar Road in Mumbai and is available for readings there. She has been doing this for almost 15 years, and also offers her guidance on personal issues.
What To Expect: Anisha reads the classic tarot cards apart from working with healing readings as well. She tells us, tarot reading isn't limited to predictions but also deals with guidelines. She gives insights apart from offering solutions pertaining to issues and problems.
She deals with Angel messages, and also helps out clients based on their needs (be it money-related issues, love, health and more).
The Fee: For 45 minutes to an hour, she charges INR 3,060 per session and she takes the entire amount in advance while taking the booking.
Contact: You can call/Whatsapp her on 7718978661, or email at anishahasija1@gmail.com. Based on your preferred timing, and date and day, the appointment is then fixed. She is also available over a call and Skype.
Monisha Singh Dudaney
Monisha Dudaney is a popular tarot card reader based out of Bandra West and has been doing this since 1992. She tells us, she was born a clairvoyant and thus, this comes naturally to her.
What To Expect: Apart from the usual tarot reading, she does crystal ball reading, coffee and tea leaves reading, angel cards reading and more. She has studied healing as well and tells us, her known USP in the circuit is accuracy. She will come home for readings if it's a big group or if someone cannot come to her office in Bandra.
The Fee: For 45 minutes, she charges INR 5,000. She tells us since she can see things and has her innate intuition, she can read things the moment she sees the person. So while you're touching the card and looking for answers, she'll already give you a lot more.
Contact: You can email her at highpriestess.monisha@gmail.com, or call/WhatsApp her on +919820573419 or +919619996601.
Kavita Kapoor
Kavita Kapoor has been reading cards for almost a decade now. Shuttling her time between Ahmedabad and Mumbai – she often takes the sessions out of her house in Santacruz West.
What To Expect: Rider Waite Tarot reading, Osho Zen reading along with different decks. She generally mixes up the traditional way of reading along with her own takes on it. She engages with healing, meditation and in fact, started off as a Reiki Master. If people can't make it to her home, she is open to going to people's houses as well.
The Fee: For 45 minutes, she charges INR 3,500 and one can ask as many questions as possible.
Contact: You can contact her on kavitakap@gmail.com or call her on +91 98244 91166. She is available on Skype and on call as well.
Karishma Rajani (Zohra)
Karishma Rajani (Zohra) picked up reading cards almost seven to eight years ago, back in college. However, she started this professionally two years ago. She is based out of Mumbai and Delhi as well.
What To Expect: A very practical reading that is pertinent to the issues and practical solutions that can be applied in life. She won't come to your house for readings as she prefers people to come to her space in Sewree. However, she also offers readings over phone and Skype. She tells us, people feel as connected over the phone as they would if they were to meet her face-to-face.
The Fee: She charges INR 1,111 per session of 45 minutes to one hour.
Contact: You can write to her at woodstockwitch@tarot@gmail.com, or get DM her on Instagram.
Comments