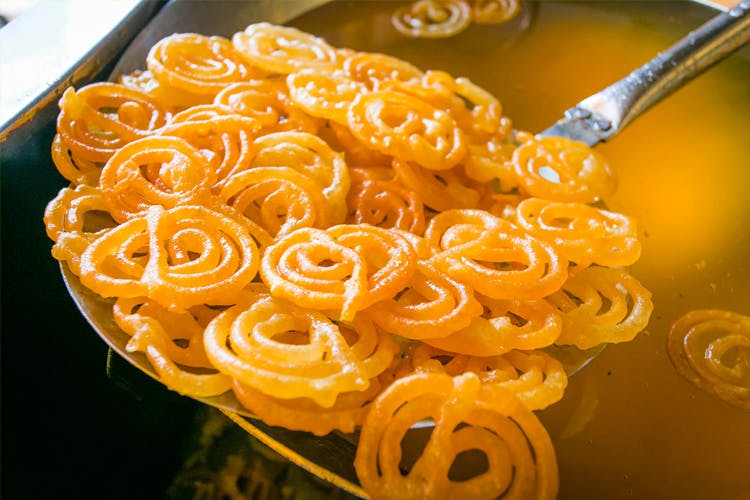 A Cordon Bleu Graduate Picks The Ten Must-Have Meals In Mumbai
There's nothing more comforting than a cutting chai from the guy under your office building or bhel from the chaat-wala bhaiya-ji standing outside your building. Every dish has a special Bombaiya touch. Here, I've listed my favourite hidden gems: have you tried them yet?
Momos From Dev
If you love momos, this is the place to be. Close to Sadanand Hotel at Worli Naka, you will find the man with one steamer and a hoard of people. For INR 60 for eight chicken momos, and IN 50 for eight vegetarian momos – all with the best chilli sauce ever.
Seekh Parantha From Nawab
This is located near Kalpana Cinema at LBS Marg. This should be your go-to place for late night bites. It is usually available after 6pm and till the wee hours of morning. The mutton seekh is a delight to all meat-lovers. Tender and cooked to perfection. Try it with the crispy parantha.
Irani Chai And Akuri From Cafe Irani Chaii
Breakfast, lunch, snacks or dinner. We love the soft and masaledar akuri and the subtle Irani chai at this tiny café in Mahim. Also, don't miss the special Iranian haleem they have for Iftaar during the month of Ramzan.
Prawn Curry At Goa Bhawan Canteen
A flat converted into a canteen in the government of Goa guesthouse at Juhu, the Goa Bhawan Canteen should be on your list to try some delicious and cheap sea food. The place is simple, has no extravagant menu and is priced way too moderately. You can expect a plate of prawns at INR 150.
Chicken Bhuna From Hot Seekh
Everyone knows Nice Food Centre, but two lanes away from that is the suburb's answer to Mohammed Ali Road, all rolled up in one store. From chicken tikka to mutton botis, naan sandwiches to baida rotis and even shawarmas, this place has it all. We recommend the chicken bhuna. At INR 90, it makes for a delicious meal.
Allu Puri At Pancham Puri
This place is being run for generations now, and offers lip-smacking home-style food in a very modest atmosphere. They have a range of puri and vegetable combos starting as low as INR 30 and full thalis at INR 60. Our favourite is the simple allu-puri. Note: this place is vegetarian only.
Buffalo Wings At Imbiss
With just four to five tables to spare, this is a non-vegetarians heaven. They have no vegetarian option and rightly call themselves a "meat"-ing joint. Our favourite is the Buffalo wings tossed in a hot and sweet BBQ sauce. At INR 310, it serves two people well.
Magai Paan At Union Park
Located in the lane after Out of the Blue at Khar is this paan shop. He has all the usual paan flavours – including chocolate – but our favourite is the meetha paan, also known as magai. It simply melts in your mouth and is a good solution to those midnight sweet cravings.
Butter Chicken Pizza At Joey's
We really love adding the Indian touch to everything, and this is especially well done at Joey's. Love Butter chicken? Love pizza? This one's for you. PS: they also have an option where you can choose four different toppings on one pizza base.
Jalebi From Punjab Sweet House
Punjab Sweet House, Bandra, is your answer for those crispy, perfect and hot jalebis you've been craving. Fried last-minute, the jalebi available here is always fresh and goes best with their rabdi.
Wontons From The Dragon Everest
A three-seater place near Juhu Bus depot, this is your place for decently-priced Chinese, but don't question their quality because of their affordable pricing. Their thread paneer & wontons remain our favourite in town.
Check out Afshaa's blog here.
Comments