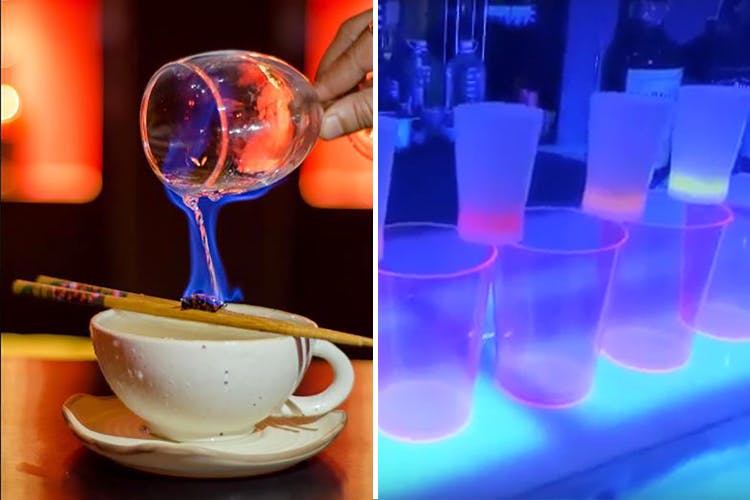 Neon Cocktails To Alcoholic Lollies, This Bartending Service Will Make Your Wedding Epic
What Is It?
Led by Mr. Binny Dhadwal, one of India's most popular and highly approached celebrity bartender, Flaming Trio is a bartending organization which caters to all kinds of audience, be it a wedding or a bachelorette party.
What's So Unique About It?
Unlike other bartenders, they go out in the crowd and interact with the guests. They have a box bar set up for every occasion like hawaai tikki bar, pool party set-up, elegant or royal wedding bar, garage set-up etc.
Although Flaming Trio does a lot more than just 'mixing drinks', their forte still lies in their amazing and out of the box bar menu. Neon cocktails, activated charcoal martini, masala chai cocktail, jalapeno margarita, paanTini and kaalakhatta vodka are just a few of their many experiments which will blow you away.
Apart from this, they also experiment with Molecular Mixology, where they create jagermeister spheres and other cocktail spheres which you can eat, frozen cocktail lollies and alcoholic fume shots where you don't drink, don't eat, but inhale your drink! Like their name suggests, they also make drinks which you can consume while they are still lit.
But you know what is my favourite part about this set up? Their Detox Bar, which will help you calm down if you have had too much to drink.
Anything Else?
Flaming Trio comes with customized props according to the theme, wedding hashtags and logo props. They can really get any party grooving with some awesome games like beer pong, tic-tac-toe, shot basketball, roulette, darts, wheel of fortune etc.
So, We're Saying...
If you are thinking of setting up a bar at your wedding, you won't be able to find a better option. The cost of the set-up including the alcohol and bartenders will come up to around INR 50K-60K for a wedding party of 100 people. You can contact them on +91 9768167145 and +91 7506506757 for their services.
{Calling all brides (and their tribes!) – From clothes to gifting, get all your wedding inspiration here. #HitchedWithLBB}
Comments