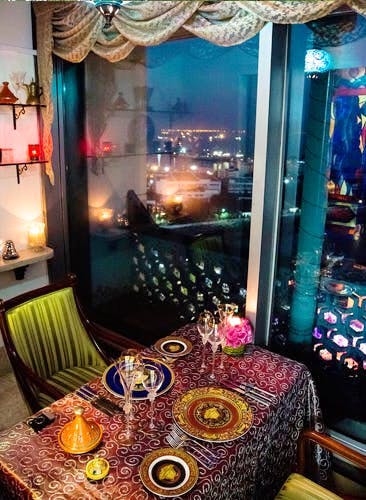 Of Unique Hotels & Beautiful Views: Unique Things You'll Only Find In Colaba
Colaba – the land of the Gateway of India, sea views and the Causeway. We always find something to explore here. Here are seven unique things that you will only find here, and nowhere else in the city.
A Secret Garden
We stumbled upon the most gorgeous botanical garden in Colaba, and it's absolutely hidden away in one of the many bylanes of the area. Officially called Sagar Upvan or Botanical Port Trust, this secret garden has a 650-metre-long running track, huge banyan trees, a cactus garden and a view of the Arabian sea. It's also a perfect picnic spot.
Read more about it here.
A Room Fit For Proposals
Planning to pop the question? Casablanca in Taj's Souk is a private cordoned off room for two where you can have a special seven-course meal served by the chef, champagne, candles and flowers, lots of flowers.
It doesn't hurt that in Colaba, you can always bank on a sea view too. Get more details here.
Mumbai's No. 1 Shawarma (And Other Gems)
Coined 'Arab Street' by well, us, this is a lane where you will find wonders unexplored, at least in South Mumbai. From imported chocolates to beautiful sheeshas, kaftans to delicate fragrances of attar, and of course, shawarmas. You'll find something interesting to explore on this street just off Colaba Causeway, which brings us to…
Junk Jewellery Haven
Colaba Causeway has drawn tourists and locals from near and far with one glimmering promise: of the best street shopping. It has got the best clothes, kohlapuris, antiques and even junk jewellery, which we have mapped out for you here.
Just remember to carry your bargaining shrewd observation skills with you, and you're sorted.
A Boutique Room With A Bath Tub
One after the other, Colaba has got two adorable boutique hotels. Abode was someone's residence that was converted into an adorable boutique hotel right above Le15 Cafe.
The Gordon House too is a lovely hotel which explores different countries of the world through its decor on different floors. It's also popular for its bar and restaurant, Havana.
A Spanky Salon Experience
Located on the ground floor of President House at Cuffe Parade, Blown is a swanky salon that specialises in hair and nails. On our visit there, we first had a consultation with the hair stylist, and chose their hair spa service. As is the general practice, the process involved the application of the product, a massage, cleansing and finally a blow dry. Apart from that, they have heaps of other styling and grooming services such as hair cuts, hair colour, hair straightening, up-dos, pedicures and manicures (with nail extensions, gel nails) and so on.
They also have a fantastic selection of wines such as Domaine Christain Chablis, Bibi Graetz Bianco, Tenuta Sant Corvina, Querclabella Chianti Classic DOCG and more!
If you're the sort who loves to pamper herself silly, then this salon is definitely worth a visit.
City's Oldest Waterfront
Sassoon Docks in Colaba is famous in the city for a number of reasons, being one of the oldest and largest fish markets around, having been constructed in the mid-1870s. But apart from this, these historic structures have a lot of old buildings that are now empty structures.
We've all kept our eyes and ears open for the revamp of one of the city's oldest waterfronts, Sassoon Docks in Colaba, by the Mumbai Port Trust. So far, we know that the restoration of this 143-year-old structure will consist of turning this area into a pulsating spot, aiming to create a modern fishing village with an air-conditioned fish market, amphitheatre, open exhibition space, a fish museum and even multi-cuisine restaurants in the next phase of construction.
We're thrilled that the docks are finally getting an overhaul and excited about all the possibilities that can help the entire community.
Comments