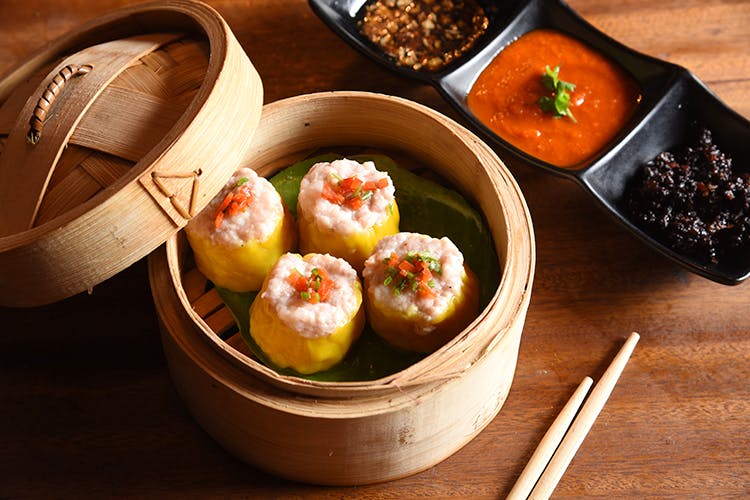 Dine, Shop or Sightsee: Here's Your One-Day Guide To Dadar
Discover the beauty of central Mumbai by spending a day sampling world-famous Mumbai street food, shopping at wholesale stores, picking up souvenirs and memorabilia from the hidden by-lanes of the bustling neighbourhood and enjoying a cultural experience in one of the city's busiest hubs.
Here is a list of top 6 things to do in Dadar for a fun day out!
Breakfast Of Champions
Wanna start early? Like really, really early? Well, then you can start exploring this neighborhood by scrolling through the busy flower market. The vendors start setting up their supplies as early as 4 AM. Capture this hustle-bustle early morning and maybe buy a few flowers as well. We've got a glimpse of this amazing market, watch it here.

Kickstart your day with some super delish fare. How about an authentic Maharashtrian breakfast of missal, vadas and chai?Enjoy breakfast at iconic places like Prakash Shakahari Upahar Kendra, that's known for its traditional fare like the hearty and nutritious thalipeet - a multigrain roti that's delicious and hearty. Other favourites here include the kothimbir vadi and the poori bhaji.
There are a lot of super affordable, quick service establishments like this in Dadar, and each has a legacy of its own.
#LBBTip- We hear that Ashok Vada Pav has the best vada pavs in town!
Shop Till You Drop
Dadar is heaven for shopaholics, especially those who love clothes, bags and accessories. If you're shopping for occasion wear and wedding wear, there are a number of options at different price points, like the Suvidha Store. This department store stocks everything from ethnic wear like sarees, kurtis, and more for women to sherwani and pathani's for men. They even have a collection of clothing for kids.
Besides this, the export shops, wholesale stores and factory outlets in Dadar make it a hotspot for those who are looking at grabbing the best deals on their favourite brands. You can also shop for books, luggage, makeup, flowers, souvenirs, and anything and everything under the sun!

You could also check out the Navratna Mall which is just a two minute walk from the Dadar station.
Find Calm In The Chaos
Siddhivinayak Temple is often in the news thanks to the celebrities frequenting it. People believe any wish asked for will be granted if whispered into the ear of the idol. Over 200 years old, this temple is part of the city's rich heritage and a great addition to any itinerary of the neighborhood.

Satiate Your Hunger
After all that shopping and sightseeing, we're sure you've worked up quite the appetite. Don't worry, Dadar has more than its fair share of delicious eateries at pocket-friendly prices. Enjoy bhaaji, bhendi, bhaat, poori, kadhi…and a divine bowl of aamras to end a satisfying meal - sounds like a plan! Among the local favourites, Aaswad in Dadar West is a top pick. Here, you can tuck into Maharashtrian specialties like pithale bhaji bhakari, bharli wangi and more. For seafood lover's Chaitanya is a must visit for coastal cuisine you won't want to miss!
Hotel Gatkari and Pashikar serve an authentic Maharashtrian thali. If you wish to devour some Malvani cuisine instead, there are a ton of options, and Gomantak and Sarangaa Restaurant come highly recommended.

And if you're looking for a fine-dine place, head to Tanatan, which is located right opposite Shiv Sena Bhavan. Or if you're looking for a cute Instagrammable place, Cafe Trofima should be your go-to.

Walk Off That Lunch
Sachin once learned to play cricket at Shivaji Park, so there is no way you should miss out on this iconic locale. In fact, you can opt for a brisk walk here in the evening as you'll find yourself in a sea of runners, walkers and health enthusiasts around the area.
While you're at it, check out the Five Gardens and enjoy leisurely walks on those wide roads. We recommend you walk around till you find a chai tapir, sip on a cutting chai, and sit back to enjoy the quiet, green neighborhood before heading out for the night.

#LBBTip - Five Gardens is open from 6 AM until 11 AM, and then from 4 PM to 8 PM
Grab A Buddy And Get A Drink
Dadar enjoys close proximity to a lot of super cool nightlife destinations. There are a whole range of options to choose from, right from casual pubs and breweries to bars, lounges and dance hotspots. If you wish to grab a couple of beers and enjoy some good food without burning a hole in your pocket, check out Open House Café and Bar.

Or grab some cheap deals and happy hours offers at My Regular Place (MRP), a modern Asian Bistro in Dadar. While you're at it, do try their popular chocolate jenga tower. We've captured behind the scenes of what goes into making this dessert. Watch it here.
Comments