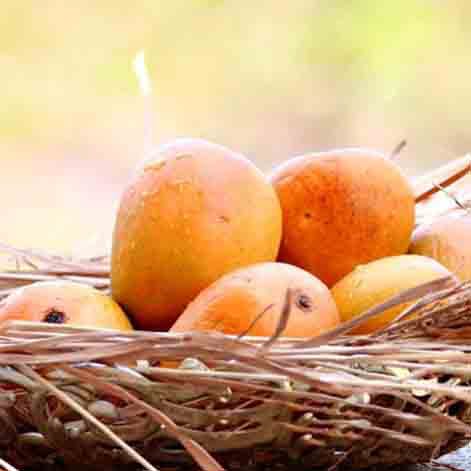 The Perfect Pit-Stop From Mumbai To Goa: Summer Magic With Ratnagiri
This beautiful beach town will spoil you with history, beautiful views and the best mangoes in the country. Known as the land of Alphonso, Ratnagiri has slowly gained popularity as a tourist town thanks to the pristine beaches, historic forts, quaint fishermen homes that double up as home stays, authentic Konkan food, and panoramic views of the Konkan coast.
P.S-Don't have enough time to plan a trip to Goa? Head over to the beautiful, quaint and small beach town of Ratnagiri to enjoy a memorable weekend. Don't forget to get back crates of mangoes!
Mango Heaven
Ratnagiri has long since held the coveted title of being the best mango producing region in the country. In fact, we never forget to get back crates of these juicy, sweet, flavourful mangoes right from the orchards. Did you know? Mangoes from Ratnagiri are even exported to Europe. You can even visit these mango orchards and enjoy mango-tasting on the lush green mountain slopes of this beautiful town.
The drive to Ratnagiri is gorgeous, with the highway flanked by mango trees and orchards. We spotted trees with more than 100 mangoes, and even the air around smells of the sweet, sweet fragrance of the Ratnagiri mangoes. There are a whole lot of mango processing units in this town, and you can sign up for mango picking, visits as well as mango tasting at these units. The best time to visit is March-May.
Recommended: Desai Bandhu Ambewale's Mango Farm. This 100-acre mango farm is one of the oldest and largest mango producers and exporters in Maharashtra. The mangoes here are then exported to USA, UK, Dubai and even Japan.
Food
Ratnagiri is a heaven for foodies, especially those who love experimenting and discovering new flavours. Ratnagiri is all about Konkani cooking at it's best, and personally we are fans of the fresh catch that is fried in masala and served to us with our beers.

Your food journey here is incomplete without biting into a steamed modak, so make sure you get your hands on those. Another highly recommended food item her is the sol-kadhi, something you need after a spicy Konkani meal.
Recommended: We highly recommend the Sai Malhar Bhojanalay.
P.S-You can also go for Amantran and Masala Kitchen Restaurant for seafood, and Mithila Pure Veg
Stay
There are a lot of options for stay here. In fact, if you're up for an adventure and can do without a plan, we suggest heading down and knocking on the doors of the fishermen huts. Most of them are home-stays and they'll let you stay for the night at a minimal cost. You can also get some authentic home-cooked meals at these home stays!

If you're in the mood for some slow-living, Farm of Happiness Agro Tourism is a good option to stay at. Visit for an authentic Konkan experience and learn more about organic farming, rural living and the culture of this small beach town. It's a calm, relaxing break from the city, and the fact that it promotes organic farming and sustainable living wins them brownie points. The farms are filled with mango trees, cashew trees, seasonal crops and wild trees. They organize farm tours so you can always get in touch with them to be a part of a tour. You can go for long walks, enjoy traditional home-cooked Konkani meals, or just chill on a hammock all day. They even have a machaan from which guests can star-gaze.
P.S-For those who're looking for resorts and villas, we recommend the Konkan Dream Home. They also organize butterfly spotting trails for those who're interested.
Visit
Trek past the fishermen's hamlet to reach the Purnagad fort. The fort in itself is beautiful, even though most of it is in ruins, all thanks to the panoramic views of the sea that you get all around. You can spot exotic birds and butterflies along the way too! Unwind to the sound of crashing waves and birds calling out to each other.
You can also visit the Ganeshgule Beach, 6kms away from the fort, and offers white sand and clear water to all those who wish to unwind. Ratnagiri hosts a Thibaw Palace too, and if you're up for a small history lesson, spend half a day exploring the Thibaw Palace. This used to be where King Thibaw of Burma, exiled from his country by the British, was held a prisoner. The palace grounds, the views and the history lessons make this worth exploring.
Don't Leave Without
While you're here, make sure you enjoy an authentic Konkani meal, complete with fresh catch prepared in coconut milk gravy, fried fish and sol-kadhi. Also, if you're interested in checking out the views of the sea, visit the Lighthouse (it is open only for 1 hour daily, so you might want to plan this well)

Lastly, you cannot leave without a crate (or 4!) of the famous Alphonso mangoes.
Comments