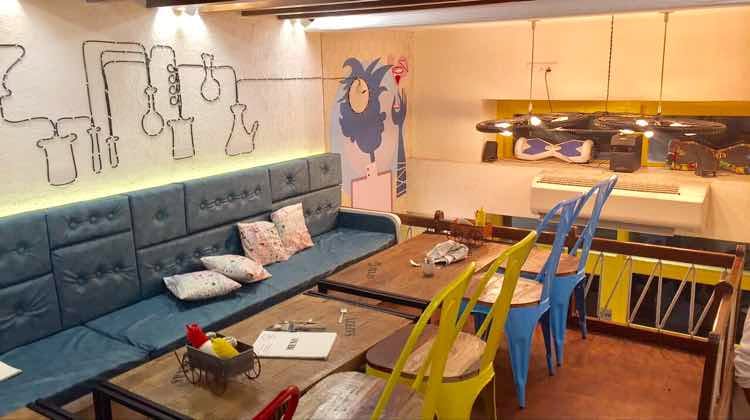 Delivery Available

Wi-Fi Available
This Science-Themed SoBo Cafe Is Every Vegetarian's Dream Come True
Pro-tip
They also have games like Monopoly, UNO and Sequence, which you can play while you dig into some lip-smacking food and sip on some delicious shakes. PS: We loved the Oreo and mango shakes.
I liked
Think colourful low-seated chairs, walls adorned with quirky frames and a whole lot of board games that promise more than a few hours of fun. Plus, delicious vegetarian and Jain cuisine that won't burn a whole in your pocket. Pleasure without any guilt, hell ya! The Lab is a cutesy cafe tucked away in the by-lanes of SoBo's posh Malabar Hill area. The pure-veg and Jain eatery is science-themed, and they even have WiFi. The walls are adorned with multiple cute and quirky frames. The food is served in flasks, and the drinks in test tubes. They take it a notch higher with cushions that have chemical formulas printed all over them.
More info
Their menu, which resembles a notebook, consists of a mix of fast food and comfort food like soups, salads, starters, sandwiches, pizzas and desserts. Dishes like the hummus and pita, penne arrabiata pasta, mac and cheese fries, mushroom pizza and crispy corn cheese balls are sure-shot crowd pullers. Their milkshakes and beverages are also a hit. You'll find a lot of college kids here, so you can always get the food home-delivered if the place is too crowded for you.
Comments
Delivery Available

Wi-Fi Available