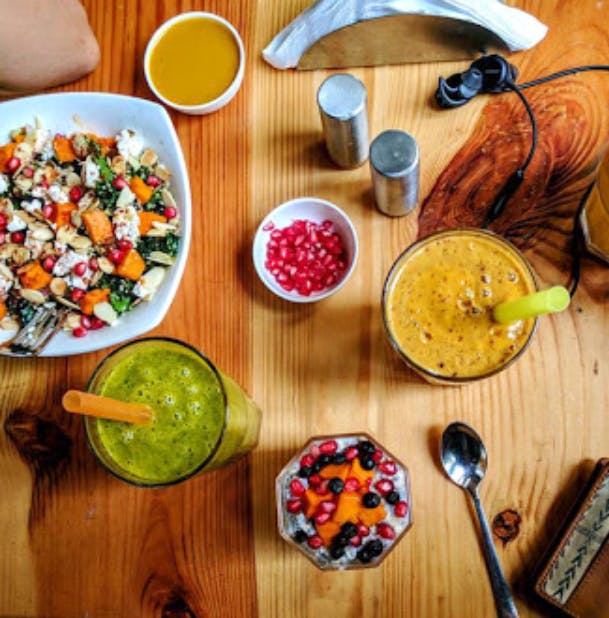 So Fresh: Restaurants Serving Great Salads In Mumbai
Counting calories? It ain't such a bad thing if you know where to find food that is healthy as well as delicious. Keep up with your fitness and health resolutions by enjoying a salad or two at these salad bars across town. We went on a salad trail in Mumbai to give you this awesome, healthy list.
Craving Salad
Counting calories can be an expensive lifestyle, but thanks to Craving Salad you can enjoy a super healthy and filling meal without burning a hole in your pocket! If you're a non-vegetarian, do try the chicken taco salad. If you're in the mood for something light, the watermelon & feta cheese salad comes highly recommended.
Sante Spa Cuisine
This healthy eating establishment which has made its way to BKC all the way from Pune boasts of cooking with organic ingredients. This all-vegetarian restaurant is all about health, and you can blindly trust them to give you some of the best, most healthy salads around town.

#LBBTip: They also have vegan, gluten-free, dairy-free options.
Ministry of Salads
Choose from a range of 11 signature salads, and if you're counting calories closely, the menu helps you with the calorie count too. On a calorie deficit? Try their Thai salad that has only 179 calories, and doubles up as a full meal.
The Yoga House
Tucked in the quiet, green lanes of Bandra is this healthy studio which serves you simple, vegan and home-style salads. This gorgeous café also doubles up as a yoga studio, so you might want to take a look at the schedule now that you're all about being healthy, eh?
The Pantry
Got to catch up with a friend but don't want to stuff yourself with unwanted calories? Head over to this gorgeous café in Fort and enjoy a lovely ambience, good service and of course, some mouth-watering salads that will have you hooked on to eating healthy. They also have a keto menu.
Sequel Bistro & Juice Bar
Wish to impress a date without going overboard with the calories? This café with its minimalist décor and drool-worthy salads is a perfect choice! They source all their ingredients from a farm in Pune, and are known to be a completely gluten-free café.
Bombay Salad Co.
This was one of the first few salad bars that got us hooked on to veggies and healthy eating in Mumbai. We love the fact that we can make our own salads, and totally customise it as per our diet.
Kitchen Garden by Suzette
Great food, great crowd and drool-worthy salads, what's not to like about being healthy? What we love is that we can totally dress up and head over to this avocado heaven.
Psst- this also makes for a great date place.
Paninaro
They pride themselves on using organic produce and making the healthiest, most fresh salads in Mumbai. The salad plates make for a good snack, and we think they're super ideal for those post-lunch hour cravings.
Birdsong -The Organic Café
As the name suggests, everything on the menu is organic. If you wish to catch up over lunch this café is a great option with its healthy range of salads that won't be making you drowsy and uncomfortable after a meal.

#LBBTip – they also have vegan, gluten-free options on their menu.

Ask Protima a question