The information in this post might be outdated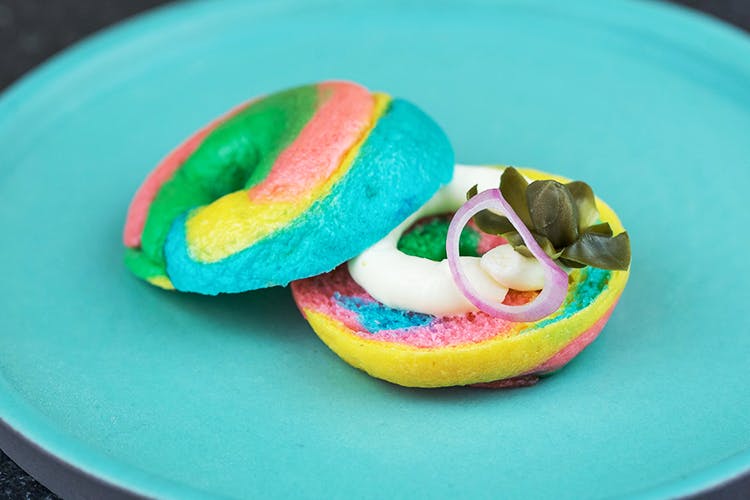 Delivery Available

Wi-Fi Available
This New Cafe In Bandra Serves Rainbow Bagels {But They're Not On The Menu}
Shortcut
Remember those amazingly bright rainbow bagels that had taken the streets of New York by storm? Well – they're here in Mumbai – and quite ironically being served at It Happened In New York – a newly opened cafe in Bandra.
Colour Me Rainbow
It Happened In New York has only recently opened up in Bandra. Consulting Chef Kartikeya Ratan and Sanyo Vaz, the Executive Chef are bringing in their favourite city to Mumbai – New York. However, we have the scoop about the mystical and magical rainbow bagels that everyone has been talking about since 2k16 began.
These rainbow bagels are an off-the-menu offering at the cafe – at the discretion of the chef. If you're lucky, and the chef's in a good mood – you'll be surprised by these.
These magical bagels come in two variations – one for the herbivores and one for the carnivores. Cream cheese and chives rainbow bagel and rainbow bagel with quail egg- soft and lip smacking to the core.
So, We're Saying...
Go in with an open mind to It Happened In New York – and we hope you'll be the lucky patron to receive the delicious Instagram-able rainbow bagels.
LBBTip
It's completely complimentary and only if it's available. You may hint the waiter to sway them to serving you one – but it totally depends on the charm you exude.
Comments
Delivery Available

Wi-Fi Available