The information in this post might be outdated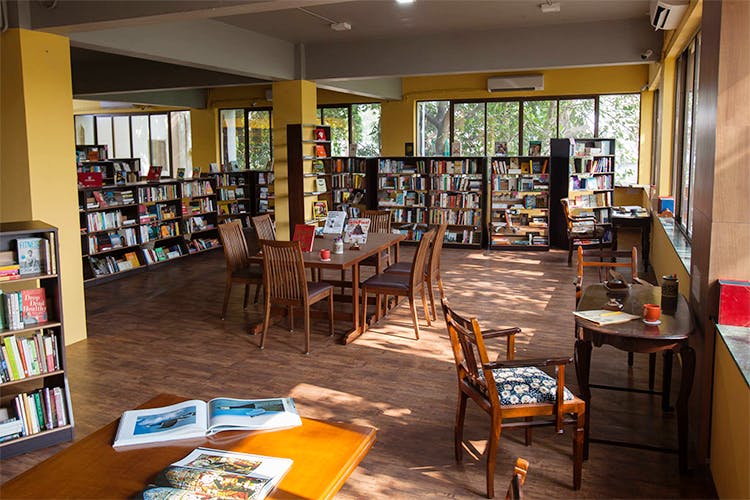 Buy, Borrow Or Write: Why Trilogy Is One Of The City's Best Bookshops & Libraries
Shortcut
Trilogy is a brilliantly-curated library for books in Lower Parel, and plot twist: it also plays a double role as a bookshop.
What Makes It Awesome
Before we get started, let us clarify that if you came to this post to find out about Trilogy, the club you once loved – this isn't the place for it. But if you are here to know more about the cosy library space in Mumbai, listen in.
When we first visited the bookstore cum library, we were delighted to see rows upon rows of books in every genre and even welcoming owners who took it upon themselves to show us around, ask us about our tastes and preferences and recommend books based on that.
Started by a young couple, you can find Trilogy on the first floor of a building within Raghuvanshi Mills. The space is categorically divided – the first two-three rows are part of the bookstore, and the rest belong to the library for you to borrow from.
They have a children's section, as well as a library for adults with a massive fantasy genre section for those who find reality too boring. You'll also find yourself in the company of graphic novels, poetry, beautiful hard-bound books and illustrated material. There's also space for you to just sit and write, if you like.
Their plans are divided across categories – very basic, basic, individual and even couple and family plans. The plans start at only INR 300 a month and go up to INR 600 a month.
Children's basic and advanced plans start at INR 500 a month. View their plans here.
Pro-Tip
As a member you have unlimited reading plans, which means that you can pitch a tent and camp out there and read all day until they shut shop. What else? They have a book club for its members too, and they organise a lot of book meetings and literary events.

Visit Trilogy to fall knee-deep in love with reading again. They're open all days and would be happy to have you.
Comments