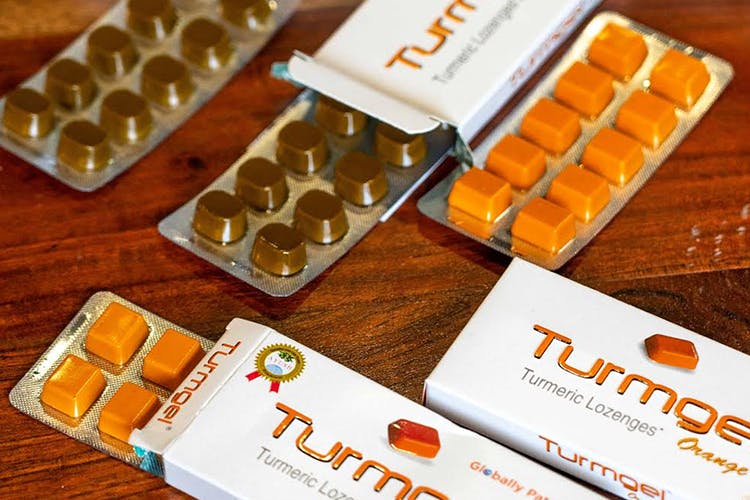 Looking For An Instant Immunity Booster? Switch To Turmgel Pure Turmeric Lozenges For All-Round Wellbeing!
Want to dive into the monsoons with a stronger immunity? Turn over a healthy new leaf with Turmgel's mouth-dissolving pure turmeric lozenges. Scientifically proven to be 9 times more powerful than plain turmeric consumed with milk or water, read on to find out just why you should be adding these yummy lozenges to your daily health regimen.
Strengthen Your Immunity
The modern city life makes us prone to illnesses often, but don't let that become a hurdle in your hustle. If you're looking to give your immunity the super boost it needs, then Turmgel's lozenges are a must to protect you from frequent coughs, colds, stomach upsets, allergies, skin rashes, flu-like symptoms, body aches, watery eyes, sneezing, and a whole lot more. Enjoy all of turmeric's antioxidant, antiseptic and anti-inflammatory properties in each lozenge.
Don't Let Flu Get The Better Of You
If you're someone who's prone to sore throats, runny nose or cough due to change in weather, pollen or even just dust in the air, these turmeric lozenges will not only give you almost-instant relief, it also protects you from recurring bouts of coughs and colds! The weather may be hot and dry, but don't let that take away the coolness and breezy elements of your life.
We Say All Gain & No Pain
Tired of the constant redness and swelling due to inflammation? Try Turmgel, as the anti-inflammatory property of turmeric will shield you from regular inflammation, helps relieve joint, back and muscular pain, and promotes healing. If you've got parents and grandparents in the house, it's particularly effective in age-related osteoarthritis.
For The Cheesiest Smiles Always
Believe food is bae (just like we do)? Then you should also know that there are over 600 types of bacteria present in the average mouth! So, naturally they cause foul odours. While daily brushing helps remove food particles from the mouth, chances are that some food particles still remain in the oddest of places. So, keep those dental diseases at bay with natural antibacterial action of turmeric in Turmgel.
So, We're Saying…
Our grandmas were right all along about the natural benefits of turmeric. But, we know how turmeric powder isn't the best tasting. Fret not! Turmgel lozenges are 9 times more powerful than turmeric powder and come in 4 delicious unique flavours. So, you get to choose the one you love best. Turmgel is Ayush Premium Safety Certified, Natural, Sugar-Free, Sold Worldwide and Globally Patented. Go check them out now.
More Information
Comments