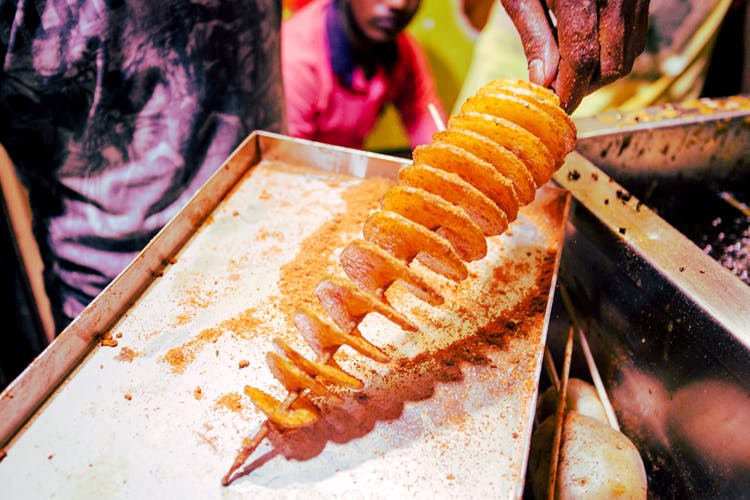 This Street Stall In Vile Parle Serves Delicious Crispy, Twisted Potatoes
Shortcut
A small stall in Vile Parle has risen above the usual french fry versus wedges war and created something new – twisted potatoes on a stick.
What Is It?
It is what the description is, potatoes twisted and served on a stick.
Served right outside Trendy Taste store on Irla Road in Vile Parle, in a small stall is this stall just serving this all day, every day. The potatoes are sliced into spirals using a spiral and dipped into a batter. After that they are pierced through with a stick, and fried until golden-brown in colour.
You can buy the classic potato flavour for INR 50 or mix it up with other flavours such as peri peri, sweet and chili, cheese and honey mustard for INR 70 each.
We loved the taste of it, fresh from the frier, and it was soft with crispy edges. If you like it crispier even, do ask the seller to fry it a little longer.
#LBBTip: Get there before 9.30pm to get the last order of the day. Also, be prepared to wait for at least 5-10 mins as his is a popular stall among locals, and rightly so.
So, We're Saying…
We'd have this over cotton candy any day. Let the haters hate and the potatoes potate.
Comments