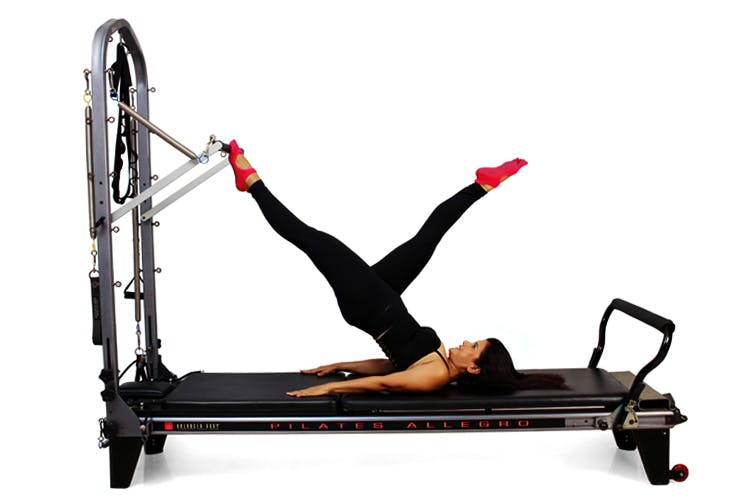 No Pain, No Gain: Five Kinds Of Pilates Classes In Mumbai To Head To
One of the most intense yet fun forms of working out, pilates has almost become the go-to workout of Bollywood stars. So what is it about pilates that makes it so amazing and what are the different kinds? We find out.
Reformer Pilates
Reformers are lined up in Pilates studios all over the world and are usually one of the main choices at Pilates studios. Reformer exercises are full body conditioning exercises that strengthens abductors, hamstrings, hip flexors, spine, core along with lower back and upper thoracic spin. Exercises on reformer during pregnancy are very safe and effective as it allows pregnant women to perform exercises while aiming at postural alignment.
Where: Activ8 Studio, Juhu and Body Image By Yasmin Karachiwala
Chair Pilates
Chair is a simple piece of equipment that combines elements of the popular mind body exercise with overall strength conditioning. It is designed to stretch and strengthen muscle groups not easily reached by more traditional techniques and equipment, It consists of a seat and a foot bar where springs are attached involving. Chair pilates focuses on core strength, leg strength, shoulder girdle stability, mobility and strength and functional movements such as standing, climbing, pushing and lifting.
Where: The Pilates Studio By Namrata Purohit
Pilates on Arc Barrel
Arc Barrel is a versatile and a lightweight Pilates equipment that is perfect for group classes. It weighs less, but the versatility of the pilates arc makes it a heavy hitter. An exercise arc has a gentle curve on one side and a steeper curve on the other. Its patented asymmetrical shape is extremely versatile for different uses and body types. This type of exercise works towards strengthening your abdominals, hip flexor and stretches your spine.
Where: Core Pilates By Sheetal Shah
Parakeet on Cadillac
The parakeet is a pilates exercise that tones the abs, improves mobility in the spine, and strengthens the leg muscles. Exercise is usually done on the pilates trapeze table and requires a lot of abdominal strength and control, hamstring strength, and good utilisation of the breath. It helps in gaining more motor control, strength, and body awareness.
Where: The Pilates Studio By Namrata Purohit
Mat Pilates
Mat pilates is done on the floor using an exercise mat. It employs controlled breathing during body weight resisted movement to build core strength. Mat pilates exercises are performed in a slow, controlled and precise manner and require intense concentration. These exercises help strengthen the body's core by developing pelvic and scapula stability, and abdominal control, using focused breathing patterns. The main fitness goals of a mat pilates program include improved flexibility, muscle tone, body balance, spinal support, low back health, sports performance, and body-mind awareness.
Where: Core Pilates By Sheetal Shah
Comments