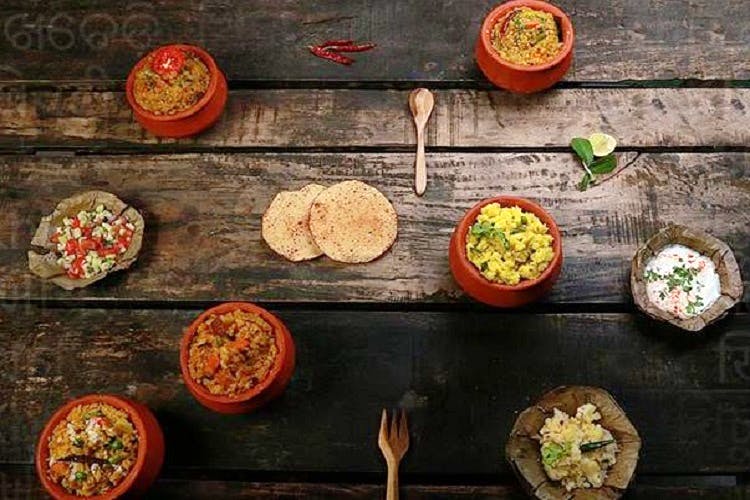 Comfort In A Bowl: Unique Khichdis To Check Out In Mumbai
One of the most versatile food items in the country is the humble khichdi. Add fresh veggies, or even dry fruits, or hey, sweet or salty; it never goes out of fashion.
This one pot wonder is what we turn to every time we think of something comforting, or just a quick-easy meal that can fill the tummy and leave you satiated.
We've got a few favourites that we gotta share, especially since this is also a monsoon specialty. A dash of yum with a spoonful of ghee? We certainly think so!
Khichdi Of India, Tresind
We're going to start our list with our favourite. If you haven't been to Tresind yet, we're giving you the perfect reason - of gastronomical proportions, mind you! When you sample their chef tasting menu (drool), you're introduced to this magical dish. As you wait in anticipation, you'll find the server rolling in with a trolley full of little white bowls with ingredients from all across the country. The khichdi is humble-looking, but then, the magic begins. There are little bowls on the map of India, where the server tells you the story behind each ingredient and which state it's from. Then, it's all mixed together, one by one, till it's this delicious bowl of goodness that smells and tastes like heaven. Phew! We've gone on with this one, so let's jump to the next.
FYI: You don't need to order the entire tasting menu if you just want to try their delicious khichdi. It's available as a separate item on the menu also.
On The Pocket: INR 595 plus taxes

Butter Chicken Khichdi, Monkey Bar
If you like to try out something different, Monkey Bar has an interesting butter chicken khichdi that is infused with ghee and served with papad, dahi kachumbar and achaar. If you're big fans of butter chicken, this desi twist is sure to leave you wanting more.
Next time you head here, try something different!
On The Pocket: INR 450

Khichdi Specials, Khichdi Samrat
If you're one who believes in varieties, then Khichdi Samrat in Girgaum surely won't disappoint. With over ten different types of khichdis to choose from, you could opt for their Vrindavan special khichdi, or just go all out and try their dry fruit khichdi (erm, yes.) They even have a cheese khichdi, schezwan khichdi, makai paneer khichdi, makai khichdi, masala khichdi and a harayali khichdi. Their khichdis are served in both vegetarian and jain varieties, if you're wondering. Moving on to our next item on the menu...
On The Pocket: Price ranges between INR 100 to INR 185

Oats Khichdi/Soya Khichdi, Banana Leaf
Banana Leaf is one of the staples that pops up every time you crave some South Indian food. From their rasam to uttapams, there's a lot to love here. And nestled inside one of the pages of their menu is the Oats, Daliya or Soya Khichdi, that's in their healthy options section. For those of us who are diligently trying to eat healthy, this is one thing you shouldn't miss.
On The Pocket: INR 200 each

Masala Fada Khichdi With Kadhi, Soam
Omg, heaven. Well, that's what we usually think of when we think of Soam. Located right across Babulnath temple, Soam is paradise for Gujarati food lovers. And with that, is their special masala fada khichdi with kadhi that is like an explosion of delicious flavours in your mouth. You'll find that it's a vegetable khichdi, thicker than your usual fare, which is accompanied by piping hot kadhi to soothe the senses. And, they even have a variant - the palak fada khichdi with kadhi. *brb, too hungry to write*
On The Pocket: INR 300

Baked Masala Khichdi, Swati Snacks
The legendary Swati Snacks has always kept us happy and satiated. Consistently consistent, they serve generous portions and are absolute value for money. Now, they have this dish called the baked masala khichdi that is a bowl full of goodness served with crunchy fried onions to add to that oomph factor. If you haven't had this yet while here, you have a new reason to visit. Seriously.
On The Pocket: INR 294

Comments