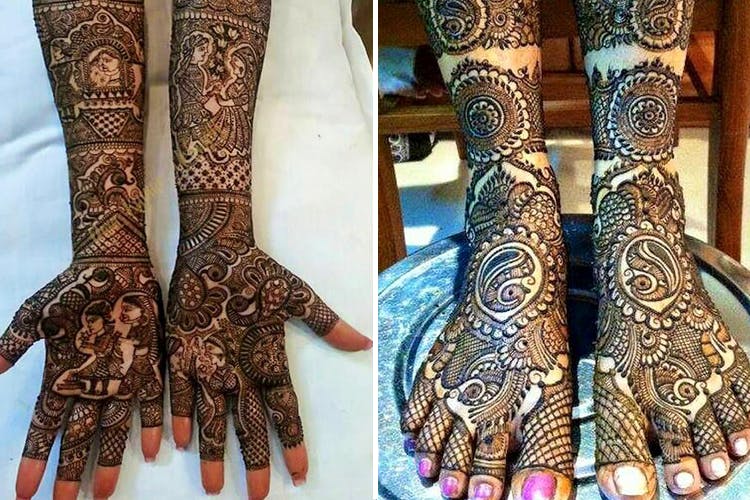 #LBBPicks: 5 Unique Mehendi Artists In Mumbai Every Bride-To-Be Must Check Out
Ten-Second Takeaway
Indian weddings come with a lot of pomp, show and extravaganza. One of those extremely gorgeous traditions is the decoration of bride's palms and feet with henna, called Mehendi. So, we bring to you the 5 most unique Mehendi artists in Mumbai.
Jasmine Mehendi
With 12 years of experience, Jasmine Mehendi specializes in Indian, Arabic and Dubai style bridal mehendi designs. Run by Jasmin Chidrode, the service is extremely popular among celebrities for its off-beat designs. One of them is the portrait design, in which the artist draws a henna portrait of a person on your palm if you provide them with a photograph. The portrait mehendi costs INR 18,000 which is more than their normal charge.
Price: INR 10,000
Contact: 9820090975
Jyoti Chheda
An award-winning artist who loves to explore new ideas, Jyoti Chheda is known for her creative and non-repetitive designs. With her professionalism, efficiency and punctuality, she has garnered clients not just in India, but all across the globe.
Price: INR 7,500
Contact: 9819352829
Nakrize
One of the lesser talked about artist, Nakrize is one of the most unique mehendi artists in the city. Apart from the conventional designs, the artists experiment with a lot of trendy and quirky ideas like ornamental bird cages on your hands etc.
Price: INR 6100
Contact: 9819414566
Saba Mehendi Artist
Experimenting with the Mehendi Art for the past 8 years, Saba Shaikh uses 100% natural henna and puts only nilgiri and clove oil to her Mehendi to ensure high quality. The unique thing about Saba's art is how she plays with the idea of empty space on the skin, and makes it look magical.
Price: INR 5000
Contact: 9029956379
Pramod Mehandi Art
With 15 years of experience in traditional Mehendi, Arabics, Moughali, Dubai style, cut work or tatoo Mehendi, Promod Mehendi Art has fans all across the globe. What stands out about their designs is the play of pattern and the very elaborate scenes drawn neatly and beautifully on arms and feet.
Price: INR 3,500
Contact: 9699628218
Comments