The information in this post might be outdated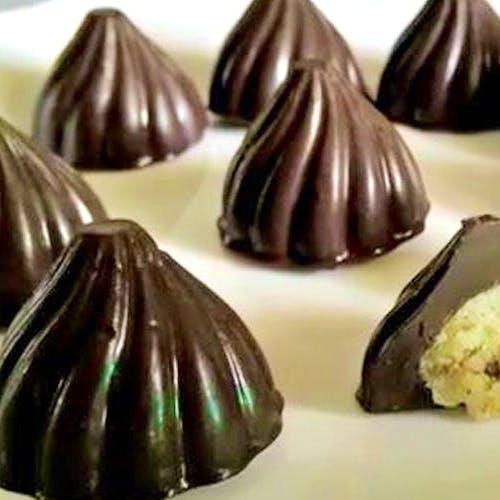 Chocolate, Fig, Litchi & More: Which Modak Flavour Are You Going To Stock Up On?
We love dumplings all year round, but when Ganpati season comes around, our cravings take a very sweet turn. Modaks are the call of the hour all 11 days, and are quite frankly unavoidable. If you have had enough of the traditional variety, here's a list of shops who make modaks with a modern twist. Place your orders soon, it's almost festive season!
Morbiwala Sweet Mart, Mulund
This little shop in Mulund is known for two opposite ends - both its sweet and savoury items. They experiment with their modaks with flavours such as anjeer modak, orange-flavoured modak , dry-fruit modak, coconut modak and more. The malai modak will be priced at approximately INR 600 a kilo.
Modakam, Prabhadevi
Anyone who know's the city too well will know what we're talking about. The beautiful amalgamation of coconut, jaggery, and sugar, with a topping of a generous amount of ghee, gives birth to the super tasty Udakiche Modak here and you just won't be able to get enough of it. For INR 32 per piece, they're super affordable, and are available all season.
New Karachi Sweets, Khar
Two weeks before the Bappa season commences, this shop starts prepping up with its modaks. And this year, they have chocolate modaks, litchi modaks, rose, and rice modaks for you. Make sure you grab a kilo of their chocolate modaks. You'll thank us later. One kilo of all modaks starts at INR 1,000.
Adarsh Mithai Mandir
This 66-year-old establishment is famous for all the right reasons.Their mawa modaks sells like hot cakes. They're also coming up with anjeer modaks, and cashew modaks this year. For INR 650 a kilo, the modaks here are the real steal.
MM Mithaiwala, Malad
You won't NOT know of this joint. It's literally all over the city, making its presence felt by the softest of modaks in kesar, malai, kaju, and their specialty- the Rangoli modak. For a kilo, it's INR 1,200 but the modaks are really worth every penny.
Country Of Origin, Nepean Sea Road
Love chocolate but want to keep that Ganesh Chaturthi festivity going? Check out the handcrafter hazelnut fudge modaks from COO. Packed with nutty goodness from the hazelnut gianduja and rich chocolate flavour, they come packed in pretty boxes that make for the ideal gift too! It's not exactly cheap at INR 750 for a gift box of 21 modaks, but we think they may just be worth the indulgence.
Comments