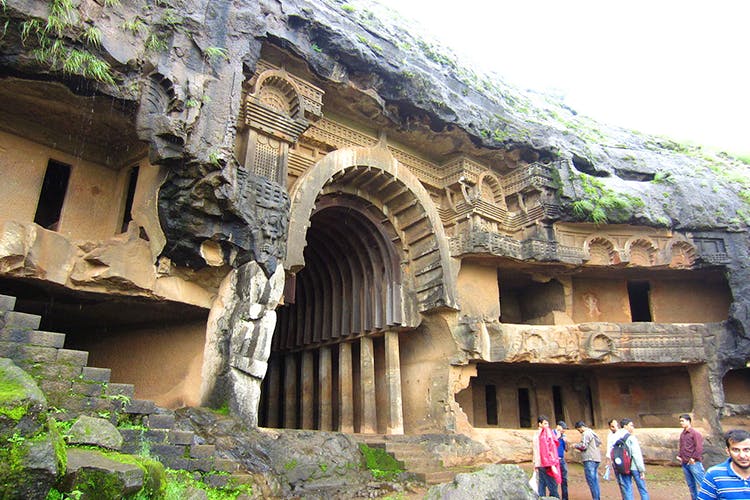 These Beautiful Rock-Cut Caves Are Only An Hour And A Half Away From Mumbai
What Is It?
Bhaja Caves exudes a sense of tranquility and devotion, and it's only one and a half hours away from Mumbai.
How Do I Get There?
Bhaja Caves is only around 95km from Mumbai, along the Mumbai-Pune Highway. Alternatively, you can catch a train to Lonavala and take a cab to Bhaja, which lies less than 12km away.
What's So Unique About It?
Cradled in the lap of nature, shaped by the hills themselves, rest the Bhaja Caves. Bhaja Caves, a set of 22 rock-cut caves, carved right out of the hills and comprising multiple stupas, are one of the most important Buddhist sites in Maharashtra. Falling on the way to the Lohagad fort trek, Bhaja Caves lie in one of the most natural places in Maharashtra. With an amazing view while you make the short climb to the caves themselves, as soon as you enter the caves, you will feel a sense of peace and unity with nature. Monsoon is the best time to explore this area, because of the multiple spectacular waterfalls that embroider the path to the caves and the caves themselves.
So We're Saying
With a getaway this close, you should definitely give Bhaja Caves a visit, if you want to escape to nature's lap for a day. Best time to visit this place would be between July-September. Make sure you don't miss out on Maoshi's chai before embarking on to the short climb to the Caves. Have fun!
#LBBTip
If you visit during the monsoons, don't forget to wear your sneakers, because the path can get slippery at times.