The information in this post might be outdated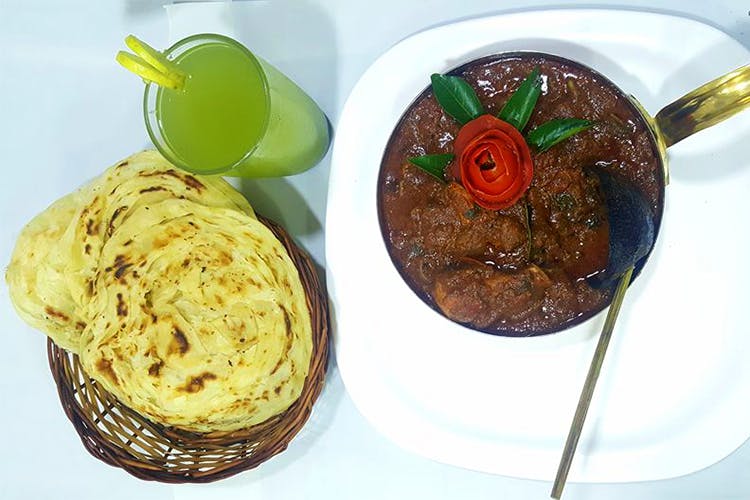 Chow Down On An Unlimited Thali Of Authentic Mallu Food For INR 70
Shortcut
Theeram restaurant in Kalina is the place to go to for cheap and authentic Mallu food – and we say you keep an eye out for the unlimited thali especially, which is amazing value for money.
Chow Down
You'll find this place sandwiched between two hardware shops, located near the Kalina Church in the market. It's dominated by non-vegetarian options, but they do have vegetarian options as well. It's a tiny place, and the service can be slow, but the food is great.
Try the vegetarian stew, chicken varutharachathu, pepper chicken, ghee roast and the Kerala-style fish fry. If you're coming for lunch, check out the unlimited thali for INR 70. Served on a banana leaf, the thali includes brown or white rice, sambar, two types of vegetarian food, rasam or buttermilk, pickles, papad, curd chilli, fish curry and payasam. It's an incredibly filling option, and will make for a snooze-worthy lunch for anyone.
On Onam, September 3 & 4, they are offering a delicious sadhya thali for INR 300 only. Head there during noon-lunch today to get your fill.
Sip On
Besides the 'normal' coffee and tea, they also serve up a Kerala-style tea made of samovar, called adicha chaya for INR 20.
Anything Else?
The menu has great variety and is very authentic. Ask the staff what is the special for the day, and they will tell you the options. Home delivery is super slow, so going there is a better option. But worth every rupee and very affordable for every broke student out there. Don't make it too late, since that area can get a little desolate. Parking is a major issue, so public transport is a better option.
Also On Theeram Restaurant
Comments