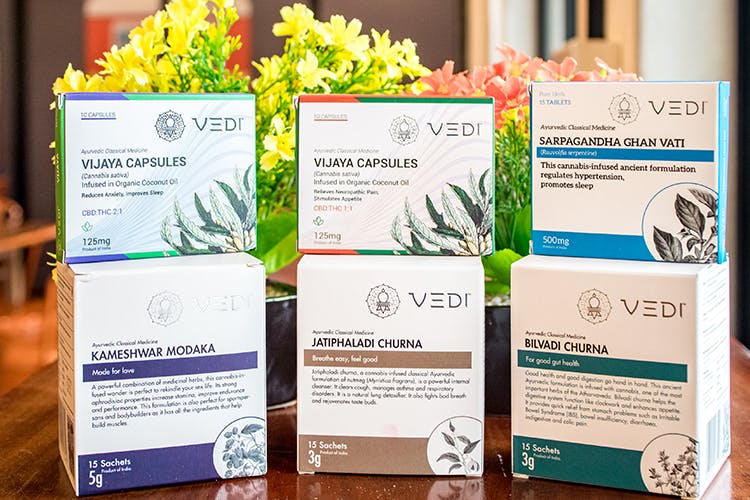 #BeOneWithNature: Live The Healthy Lifestyle With Medical Cannabis
If you are stressed at work, having difficulty sleeping, lost your appetite, or suffering from chronic pain, you should be looking at the conqueror of ailments "Vijaya" or "Medical Cannabis".
Medical Cannabis touted as the potential panacea in Ayurveda, is backed by scientific research that reinforces its therapeutic potential and hence garnering a lot of attention worldwide. In India, Vedi Herbals is leading the change by bringing awareness and making medical Cannabis available for those in need.
What Makes It Awesome
Amazingly, Cannabis has been used in Ayurveda since thousands of years to reduce anxiety, manage stress, reduce pain, control nausea, stimulate appetite, relax muscles and improve sleep. Not just that, medical cannabis has been proven to treat a variety of issues such as anxiety, depression, insomnia, pain, alcoholism, drug addiction and many more!
Ayurveda considers Cannabis as one of the five most important herbs in the botanical world and hence used in more than 80 formulations. It stimulates the Endocannabinoid System of the body, which contributes to overall well-being and supports good health.
Vedi offers Ayurveda-inspired, 100% vegetarian and chemical-free range of Ayurvedic medicines, Herbal Dietary supplements and Natural Body care products. Their products are made to GMP (Good Manufacturing Practices), ISO and USDA Organic standards to deliver high quality and effective products. Some of the best selling Cannabis-infused products are Vijaya capsules/ tinctures, Kameshwar Modaka, Jatiphaladi Churna, Bilvadi churna and Sarpagandha ghan vati.
So, We Are Saying…
A by-product of today's lifestyle is poor physical and mental health. But, now you have a trusted answer with Medical Cannabis to solve your problems and lead a fuller, happier and healthier life.
Wholesome Cannabis leaf extract medicines are available in different proportions of CBD and THC (active chemical compounds) to choose based on the health issue to treat and can be prescribed by talking to your medical practitioner or Vedi doctors.
More Information
Ask Sonal a question