The information in this post might be outdated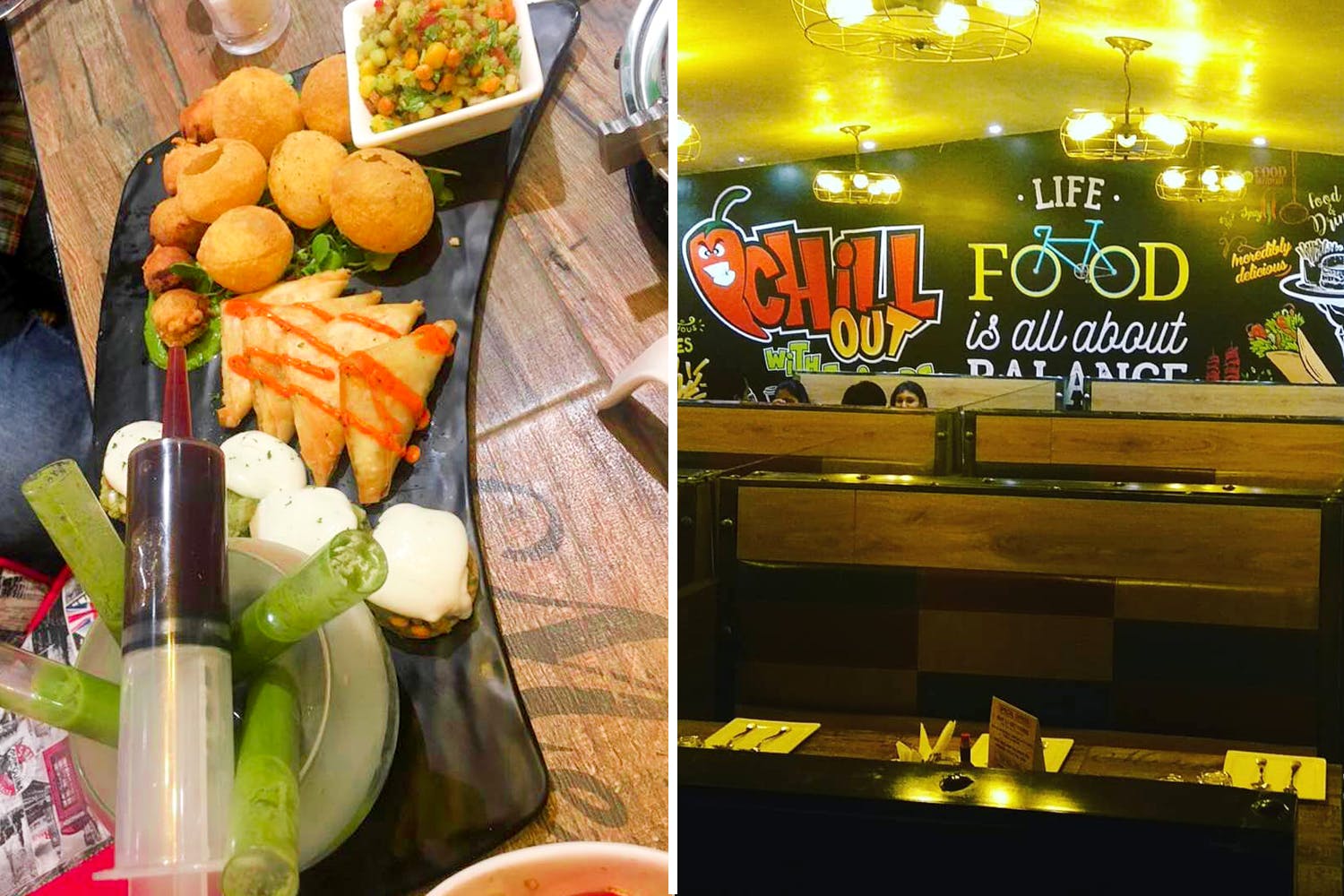 Pav Bhaaji Soup Or Pav Bhaji Pizza? This Eatery Is Reinventing Vegetarian Food
What Is It?
Located right next to the Goregaon Sports Club is The Leaf – by Shrinathji, an only vegetarian restaurant that stands tall between all the clutter on the Link road in Malad. A multi-cuisine restaurant, it serves American, Italian, Chinese, Mexican and North Indian dishes.
The place has the old-school back-to-back benches in the centre for seating surrounded by proper tables and chairs on the side. As you enter, you will see the walls painted with characters and food quotes that pop up instantly. Known for creating fusion in their menu, and for their hatke presentation, this place also has non-vegetarians going a little gung-ho.
Chow Down
A Cuban Cigar Roll – paneer, corn, spices, and cheese stuffed inside a fried roll is their most popular starter (INR 345) served in shot glasses with dip. This is followed by the Leaf Rock – cheese balls tossed in their special Shanghai sauce (INR 335), which is served in small cookers. They seem pretty obsessed with Pav Bhaji which is served in three forms – Pav Bhaji soup (INR 235), Pav Bhaji Pizza (INR 390), and a Pav Bhaji fondue (INR 456). Highlights from the main course include The Leaf Special – exotic vegetables tossed in a special sauce made by the chef served with butter rice (INR 445). They also do multiple variants of french fries.
Club these dishes with a refreshing cocktail. And end your gastronomical ride at The Leaf with a classic sizzling brownie, or a sizzling waffle.
Also, don't forget to avail a 15% discount if you're a college student.
So, We're Saying…
For those who outrightly reject going to an all vegetarian place, we suggest you spend an evening at The Leaf to taste the infinite possibilities that a vegetarian restaurant can offer.
Comments