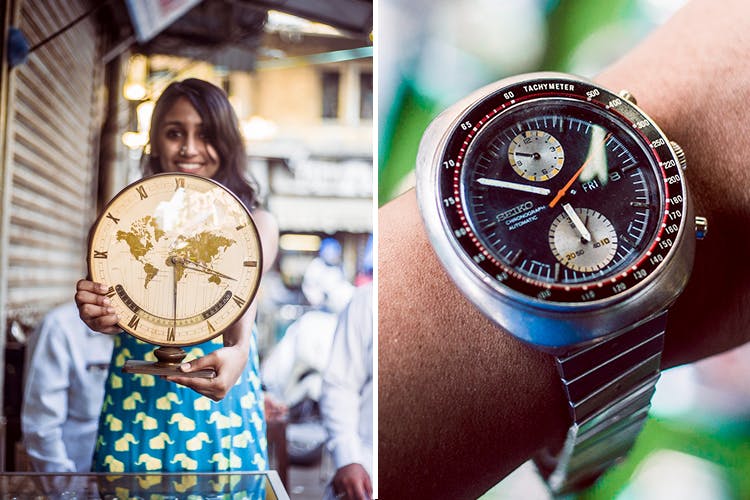 Rolex, Seiko Or Rado: This Shop In Chor Bazar Sells Original Vintage Watches For Cheap
Shortcut
If you have always been a fan of luxury watches, then we have come bearing probably the best news of the year for you. We found this hidden store in Chor Bazar called 'Vintage Watches' which sells original watches of the most famous luxury brands.
What Makes It Awesome
Run by Mr.Raja since 50 years, the shop has a fantastic collection of brands like Seiko, Rolex, Rado, Favre-Leuba, Omega etc. The shop collects a wide variety of vintage watches from all around the world and repairs them to sell them again. Along with wrist watches, the shop also has an impressive collection of Swiss and London pocket watches from Mahatma Gandhi's era. The watches start at INR 1,000 and go up to more than INR 1 lakh. The pocket watches start from INR 3,000 and go all the up to INR 1 Lakh.
The shop also specializes in repair and refurbishing of any kind of watch. They dismantle the whole set-up, clean the metal and re-assemble it so that it works like a new piece. Although to maintain the vintage look, they don't re-paint or polish the metal as it will lose its authenticity. They also purchase vintage watches if you are willing to sell yours.
Get your wrist some classy makeover and be a proud owner of an original vintage. These watches make for a great gift too.

Pro-Tip
A unique item that caught our attention at the store was the world time clock that works with a key. If you wind the key fully, the clock will work uninterrupted for up to eight days. The clock shows the time of all the countries in the world and it looks super cool. It is definitely a must-have for collectors.
Comments