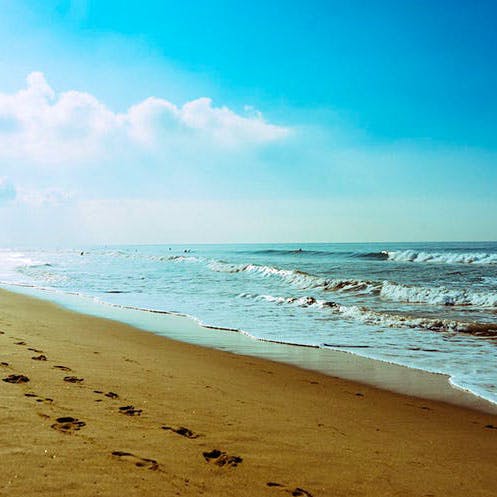 Vitamin Sea: You've Gotta Bookmark These Virgin Beaches In Maharashtra
When it comes to beaches, most of us have a few options in mind (yes, Goa, amongst others) but Maharashtra is full of hidden wonders in the form of pristine sands and clear water along the coast; beaches that are not yet well-known amongst the throng of city dwellers.These virgin beaches are sure to give you a more relaxing experience than visiting a spa in the city. Check them out and enjoy those long weekends.
Ganpatipule
Stretched along the Konkan coast, this beach village is known for its serene beauty and clean sands. A lot of travellers come here to visit the Ganesha temple that is 400-years old and to enjoy the unique cuisine that's on offer. The MTDC resort is right on the beach, if you're looking to enjoy spending some time in the sun and sand.
What To See: Arey Ware Beach, Malgund Beach, Swayambhu Ganesh Temple
Distance From Mumbai: 345 kilometers approx.
Tarkarli
A village in Malvan taluka, Tarkarli is known for its white sands and clear waters. It also houses the state's only scuba diving training centre and is known for water sports. The village is known for its Ramnavmi Utsav, celebrated every year in the Mahapurush temple.
What To See: Mahapurush Temple, Scuba Diving, Boating Point & Water Sports Point, Malvan Plateau, Sangam
Distance From Mumbai: 495 kilometers approx.
Kelva Beach
Located near Kelva Road, which is three stations after Virar on the Western Line, Kelva boasts of pristine beaches that are seldom visited by Mumbaikars. The eight-kilometer long beach is an ideal spot for runners as well, as the beach is also surrounded by trees.
What To See: Shitladevi Temple, Kelva Beach Fort
Distance from Mumbai: 127 kilometers from Mumbai CST by road
Shiroda Velagar Beach
There is, of course, the option to drive a few more kilometers, pay toll and enter Goa, but think of the solace you would get when you visit Velagar beach in Sawantwadi. There are of course several resorts you can choose from, but we recommend you try your hand at one of the homestays to have a holistic experience of the beach life.
What To See: More than seeing, let's appreciate how pristine this beach is, considered by many as Maharashtra's most beautiful beach
Distance From Mumbai: 548 kilometers
Velas Beach
Velas beach, a village in Ratnagiri district is around 200 kilometers to the south of Mumbai and is famous for the Olive Ridley turtle population that visits the beach every year, like clockwork, to lay their eggs. Here, the turtle conservation project is on in full swing and is handled by the villagers. You can actually witness the miracle of an Olive Ridley turtle hatching right in front of you and then, slowly making its way to the sea.
What To See: Olive Ridley Turtles, Bankot, Lord Shiva Temple
Distance From Mumbai: 225 kilometers approx
Kashid Beach
Around 30 kilometers from Alibaug, Kashid beach has an interesting landscape with cliffs around you and golden sands. You can set up tents with friends and have a campfire or even take part in water sports in the area. Although, thanks to its close proximity to Mumbai and Pune, you might find travellers exploring the beach, so, make sure you book in advance.
What To See: Phansad Wildlife Sanctuary, Nandgaon Beach, Korlai Beach
Distance From Mumbai: 124 kilometers
Ask Shaili a question