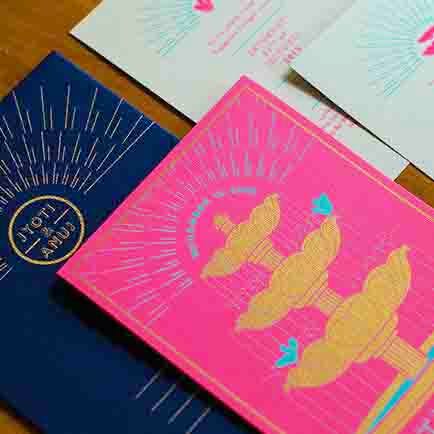 By Invitation Only: Here's Where To Shop For Wedding Cards In Mumbai
The excitement of a wedding starts from the moment that wedding card reaches your doorstep. Now if you want to make the best first impression, you need to get yourself a card that sets the mood right for your special day. Here is a list of our top choices of wedding card stores and designers who will help customise the designs to give you that invitation that you've always dreamt of!
Jimit Card
This card store in Dadar is also known for creating great designs at extremely economical prices, but what makes it stand out from the rest is its impeccable service. Loyalists swear by the quick turnaround and delivery.

Price: Starts At INR 15
Phoenix Wedding Cards
This store in Borivali will leave you spoilt for choice, thanks to a variety of designs that are available (approx 5,000 to be precise). Their traditional designs are quite a hit, and they also customise the cards as per your choice.

Price: Starts At INR 15

Kashi's Wedding Cards and Gifts
This store is located in Santa Cruz and offers a good choice of traditional as well as contemporary designs. We personally love their minimal look and the fact that their cards are good enough to be framed as paintings by the bookshelf!

Price: Starts At INR 30
Artsy Design Co.
For bespoke designs and quirky, unique invitation styles, check out what Artsy Design Co has to offer. This is a fine paper design studio located in Juhu. Their entire range of wedding stationery is quite eclectic, and we love their personalised style of design.

Price: Starts At INR INR 300

Studio Kohl
This store in Malad is the perfect place to get your invitation designed from if you're looking for something edgy, classy and quirky. Their contemporary designs are sought after every wedding season. They work with templates that can be worked around according to the clients' needs, thus making it super convenient for all those involved.

Price: Starts At INR 200

Mostly Handmade
If you're looking for some eco-friendly and sustainable, Mostly Handmade has plantable wedding invites made of handmade seed paper. So, soon these plants will grow into either basil plants or marigold ones. These price range of these events start at INR 70. Apart from these, they have Boho-themed cards to modern minimalistic ones.

Want to cut the paperwork and go digital? They even provide the service of e-invites, wherein their designers will customise the digital card for you.

Price: Starts At INR 60
EDC: Luxury Invitation Cards
Their wedding invites have found their way to the weddings of popular and well-known celebrities like Aishwariya and Abhishek, Harbhajan Singh and Geeta Barsa, Lara Dutta and Mahesh Bhupati, Salman Khan's sister Arpita Khan etc.The Entertainment Design Co. should be on top of your list if you're looking for something elite, classy and luxurious. They are popularly known, not just in India but across the globe, for their premium and handicraft invitation cards.
Price: On request
Pink Whistle Man
When it comes to infusing innovation, concept and ideation, we love Pink Whistle Man. From invites in form of Spanish coasters and vintage cassette-themed ones to F.R.I.E.N.D.S. themed invites - we're quite impressed with their creativity. Well, if you have something offbeat they have amazing infographic invites which reflect the entire journey of the wedding couples. We loved their passport themed invite which was made using royal blue velvet fabric.

Price: Starts from INR 40

IKON: Designer Wedding Cards
From simple traditional ones to chic contemporary ones - this 40-year-old wedding card company has been making wedding couples happy - in India and abroad. Apart from designer and hand-craft cards, they also help with wedding accessories like envelopes and gifting bags.
Price: On request
Ask Protima a question