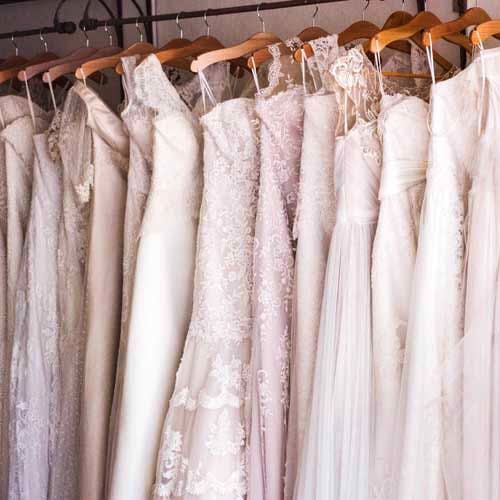 Down The Aisle: Here Are The Best Gowns To Buy Under INR 25,000
Smart brides-to-be, it's time to get smarter with your shopping choices. If splurging a huge sum of money on an outfit that you probably won't wear again is too much for you, you have come to the right page on the internet. Keep this list handy.

Light In The Box
We absolutely adore the cut, designs and prices at Light In The Box. Check out their sequinned V-neck gowns for INR 19,000 (on discount). The lace work makes it beautiful while the cut makes for a confident bride.

Shazia
Based out of Mahim, Shazia is a boutique that specialises in bridal gowns. If you are not a believer of adorning your gown to the T, give Shazia a call. They will make you a bridal gown at an affordable price, if you're not spending a bomb on your trousseau. Tell them your budget and they will try their best to suit your needs.
Nisha David
Based out of Malad, Nisha David will sort you out under INR 25,000 if you're looking for a simple dress, without borders. Not compromising on quality, they use good lace from shoulder to waist, add patchwork to make your gown look beautiful. You can even rent form here, if you think that spending an exorbitant amount on a dress that you may only wear once doesn't make sense. You can rent gowns either in the INR 5,000 range or in the INR 8,000 range.
Brides R Us
The mecca of everything budget-friendly, Lohar Chawl doesn't only provide you with fantastic lights, but also beautiful wedding gowns. They will cater to your needs– whether it's cut, material or embellishments. Sleeves or no sleeves, a trail or no trail, just tell them your preferences and they will work around the budget for you.
Christian Heritage, Vile Parle
Christian Heritage in Vile Parle can make wedding gowns in just three days. Open on all days of the week, they dress you up and tell you what looks good on you and what doesn't, and we all know that professional advice is always needed when it comes to weddings, so their unique service is what impressed us. In addition to the gowns that start from INR 15,000 onward, this store also sells other wedding accessories. Be it a veil, a tiara, decoration products, coat flowers for men, ring cushions and even bouquets are available here.

Comments