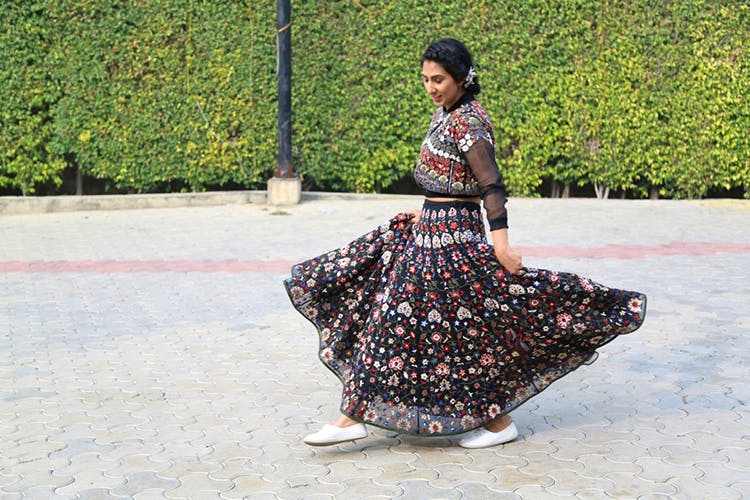 Flaunt It, Baby: Wedding Lehengas You Can Buy Under INR 10,000
Let's face it-weddings are expensive. Whether it's the venue, jewellery or food, the bills tend to run in a couple of lakhs. To take some heat off, why not go for a lighter, minimal lehenga instead of your usual gaudy, heavy ones? Here's a list to keep handy, if you're a smart bride.
Aishwarya Design Studio
With four outlets in the city, Aishwarya Design Studio makes it to this list due to its fabulous collection. Starting at INR 6,000, you'll get to see beautiful pieces with details that'll have you swooning, they also have exclusive lehengas with intricate work and detailing that can go up to over a lakh.
P.S: They have an online presence too.
Pagli
One of the popular outlets in the city for festive wear, Pagli has a collection of light and minimal lehengas that are anything but gaudy. Whether it's brocade, silk or shaded satin, their collection starts at INR 8,000.
Touch Me
Don't go by the name because its the collection that's worth it all.You must go for their neon green plain lehenga, and ask them to get you a floral top stitched to go with it. They range from INR 5,000 onward and we'd say it's not too expensive, considering the fact that the quality is top notch. Another favorite of our's is a turquoise blue lehenga with a beaded blouse and quirky latkans at the back of it. It's perfect for a sangeet!

Suvidha
Suvidha in Dadar is your one-stop-shop for all things bridal. This store stocks a wide variety of ethnic wear in a variety of styles. Best of all, prices for lehengas start at INR 4,000 so you won't end up breaking the bank.
Kazbee
Their collection is a mix of traditional and contemporary designs that are so droolworthy you'd want yourself or your best friend to get married right away to be able to wear them. Starting from INR 4,000, their lehengas and skirts are the real deal. Go for their floral lehengas too, if you're a fan of those. Pastel shades are also a good investment from Kazbee.

Pro-Tip
If you want to get a lehenga stitched, there's nothing better than ransacking Manish Market in Andheri for the best fabrics. From net and georgette to any fabric you name to jazzy jackets and dupattas that give any expensive Indian wear store a run for its money, the market is home to a lot of these shops. Depending on the fabric, expect the price to start at INR 250 a metre.

Comments